Take a look inside the course ...
Embrace Your Inner Artist


Modern Mixed Media is a 6 week online art course that will bring freedom and confidence to your creative practice. Imagine splashing paint, making marks and trying new things - all while learning about contrast, repetition, negative space and other essential design skills. That's what Modern Mixed Media is all about!
Explore colour, play with pattern, build up texture, add botanical motifs and more!  


It doesn't matter whether you are an absolute beginner or have worked with mixed media before, this course is for anyone that wants to connect with and nourish their creativity.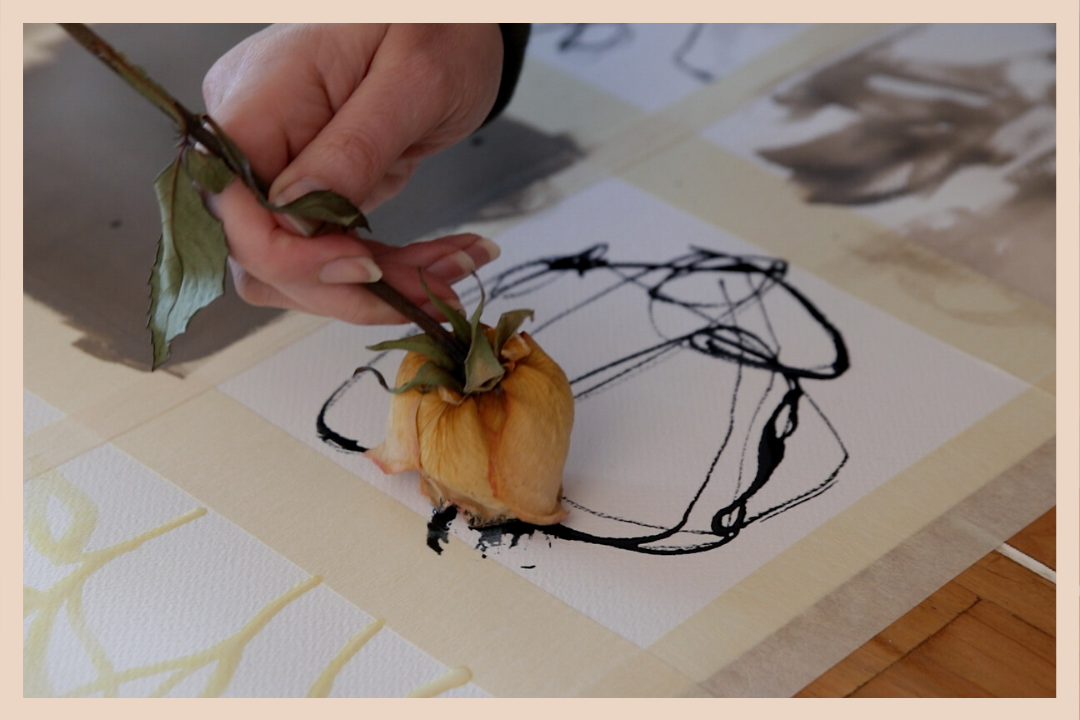 Loosen up and let go of perfection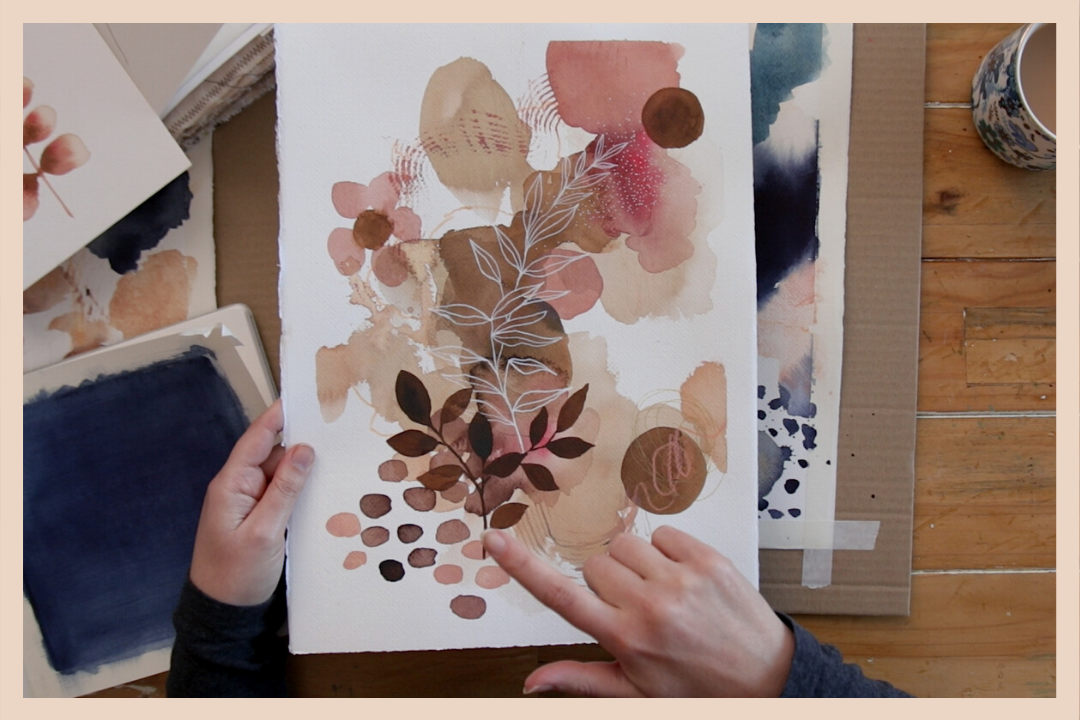 Cultivate a nourishing creative practice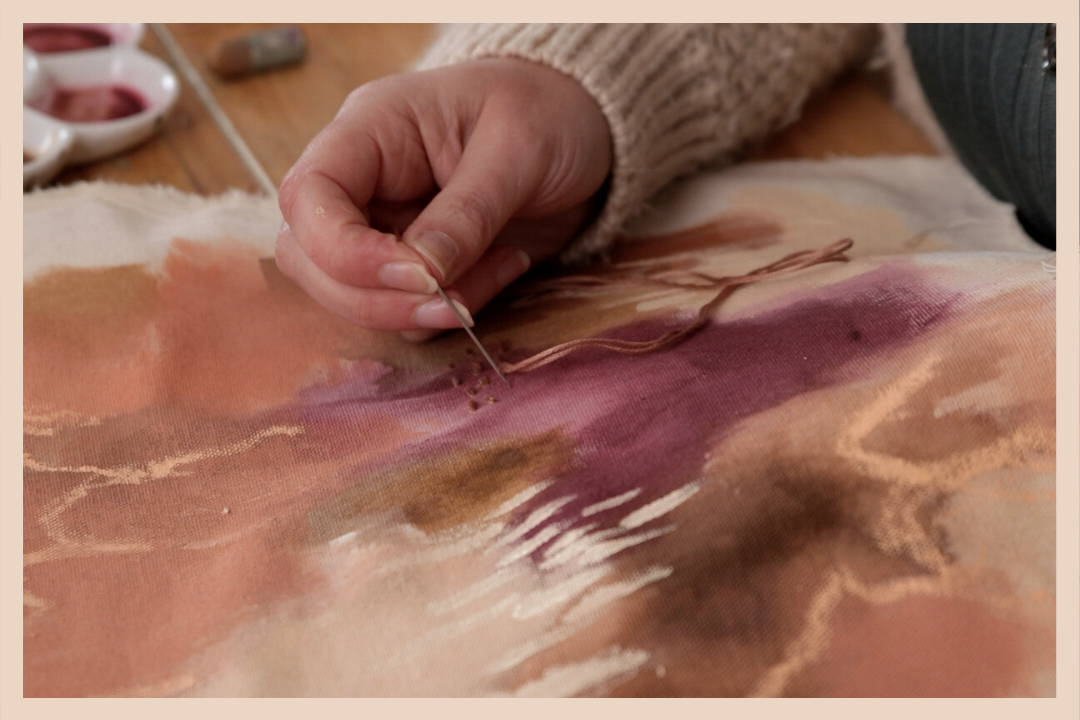 Explore a range of mixed media techniques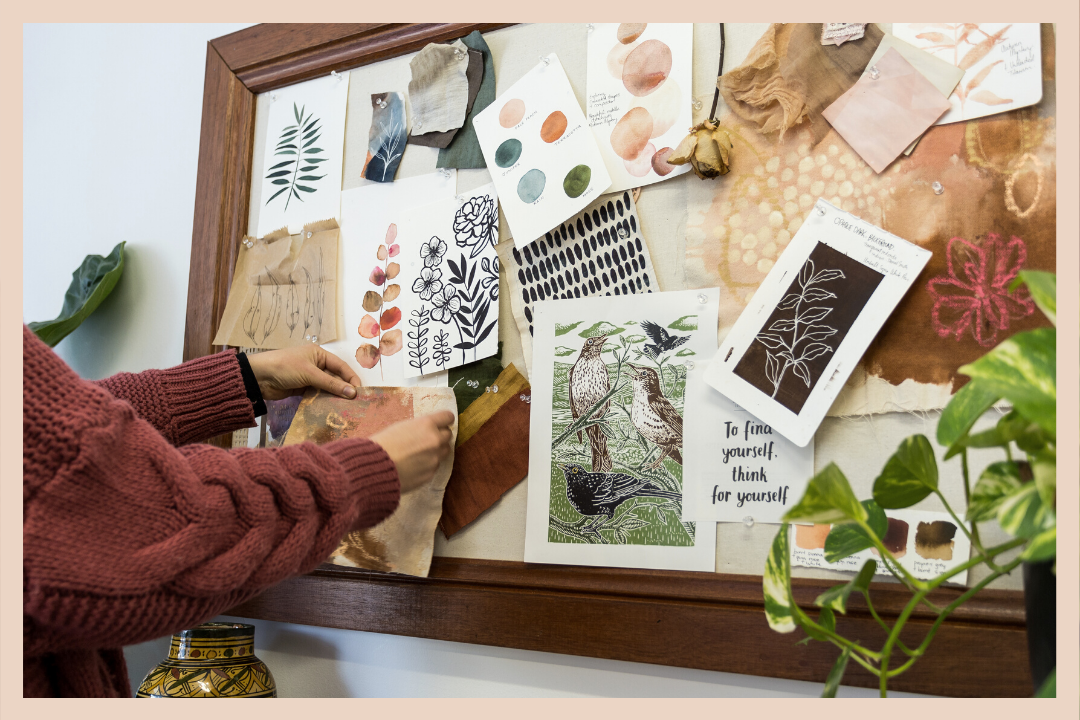 Understand and hone your unique style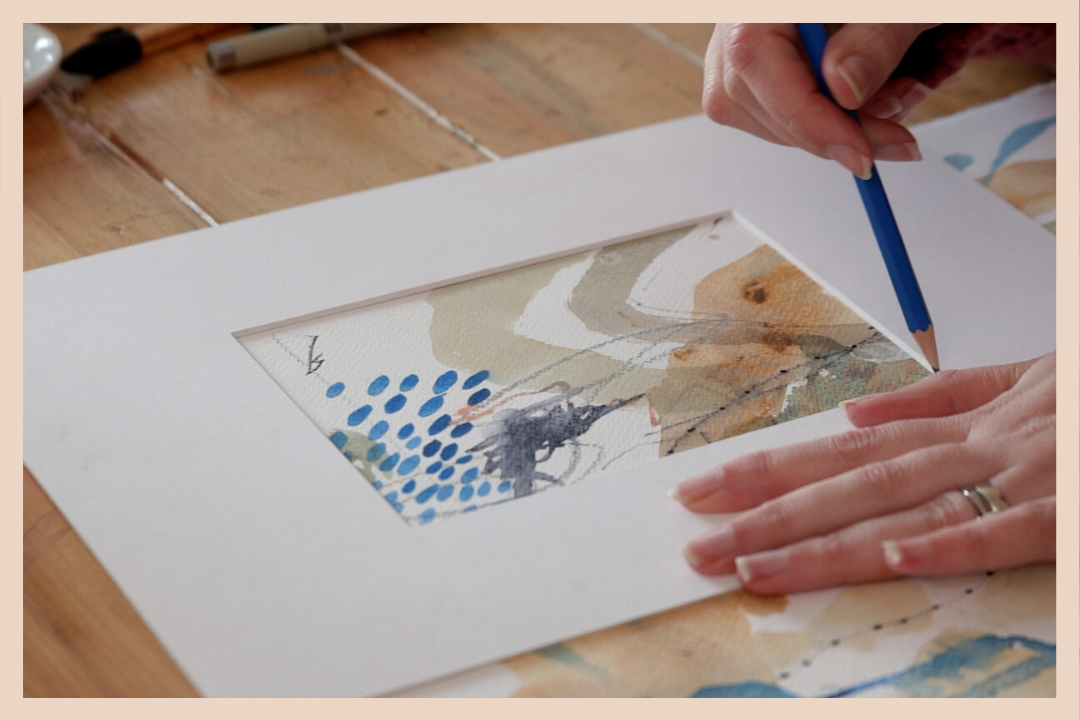 Strengthen your skills in abstract design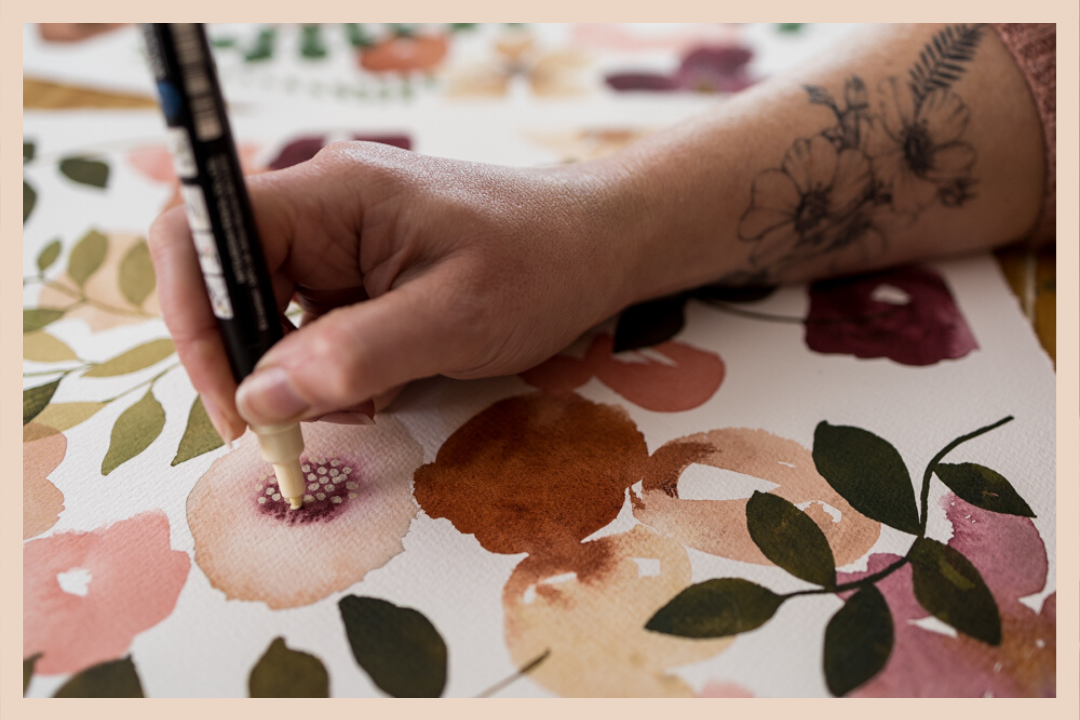 Gain confidence in finishing and presenting your work
Inside this course, I'll guide you through ...




How to use mood-boards, sketchbooks, and warm-up exercises to loosen up and bring more of you into your art.
My step by step approach for choosing colours and composing a harmonious colour palette.


Creative ways to bring depth and texture into your work using mixed media supplies such as pastels, pens, gold leaf, collage, stitching and more.


Tools and exercises for simplifying your work and creating stronger compositions.


Start to finish painting projects that are focused on core skills such as using contrast, repetition and negatives space effectively.


Tips for finishing and presenting your work in it's best light. This includes sealing, photographing and framing mixed media art.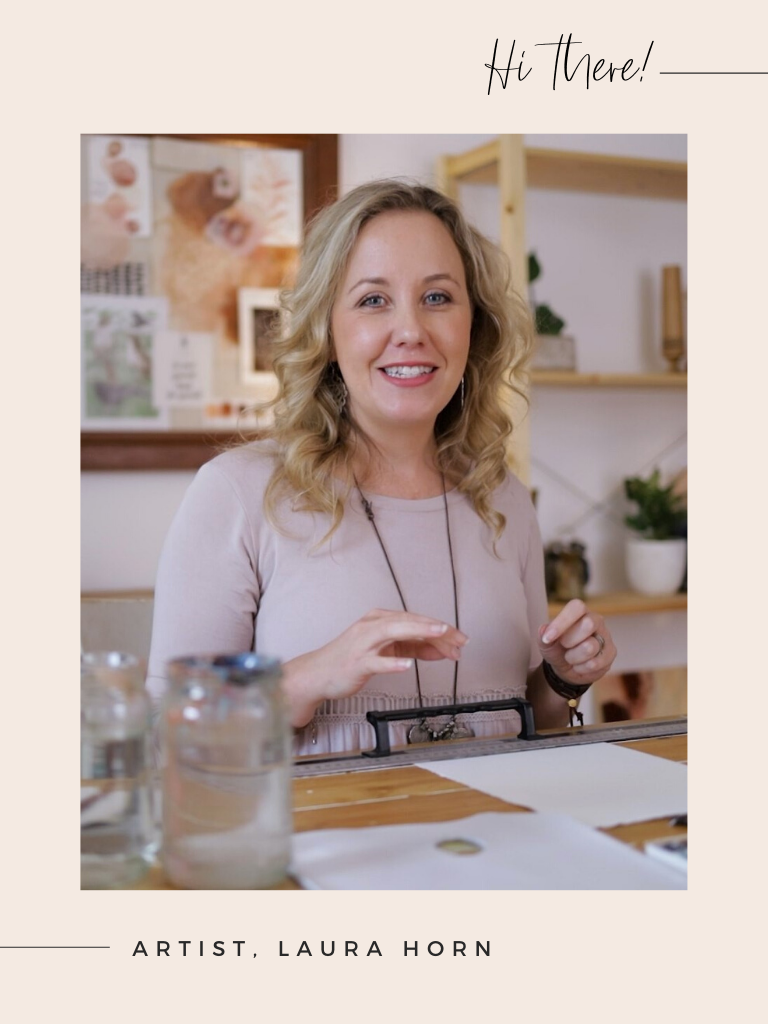 Hello, I'm Laura.
I'm a mixed media artist from Adelaide, South Australia.
Nine years ago I picked up a paintbrush. I had two young children and like many mothers I felt a little lost amongst all the nappies.
As soon as I reconnected with my creativity I felt a spark. I quickly fell in love with all things art. The yummy supplies, the supportive community and the sense of purpose and satisfaction that came from doing something I truly loved.
I followed my passion and built a beautiful messy life around it. Things rarely went to plan but I amazed myself with the things that I could do. From selling my work at markets and cafes to running a retreat in Bali right through to hosting a top rated art podcast.
I've also had the joy and privilege of teaching over 20,000 students across the globe through my online classes.
Tapping into my creativity gave me clarity and confidence and it can do this for you too.  
It wasn't always easy though ...


When I first started painting, the gap between what I wanted to create and what I could create was HUGE! I was also overwhelmed by all the possibilities and struggled to know what was really 'me' in it all.


This lead to a lot of frustration and some seriously overworked paintings! But I was determined to not only improve my art but also to become a happier and more relaxed artist.


It was only when I slowed down and began noticing what was happening in each session that I began to grow. When I look back now, I realise that there were three things made a big difference.


And it's these three things that underpin the Modern Mixed Media Ecourse.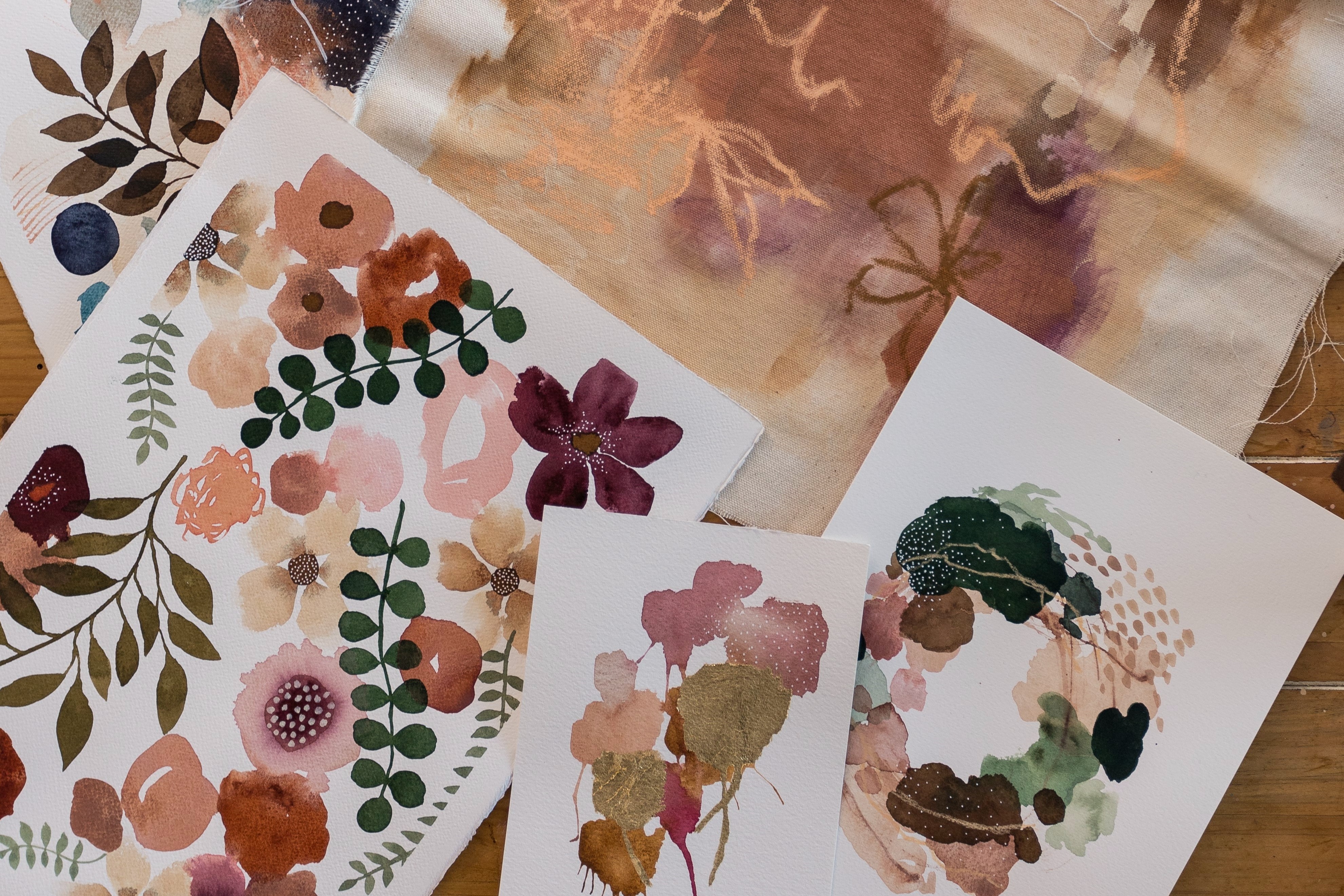 1: Cultivating a Learning Mindset
When you accept all of your work as helpful, you become open and receptive to the learning that every painting offers. You also let go of the negative feelings associated with bad work which enables you to actually get on with what's important - making more work!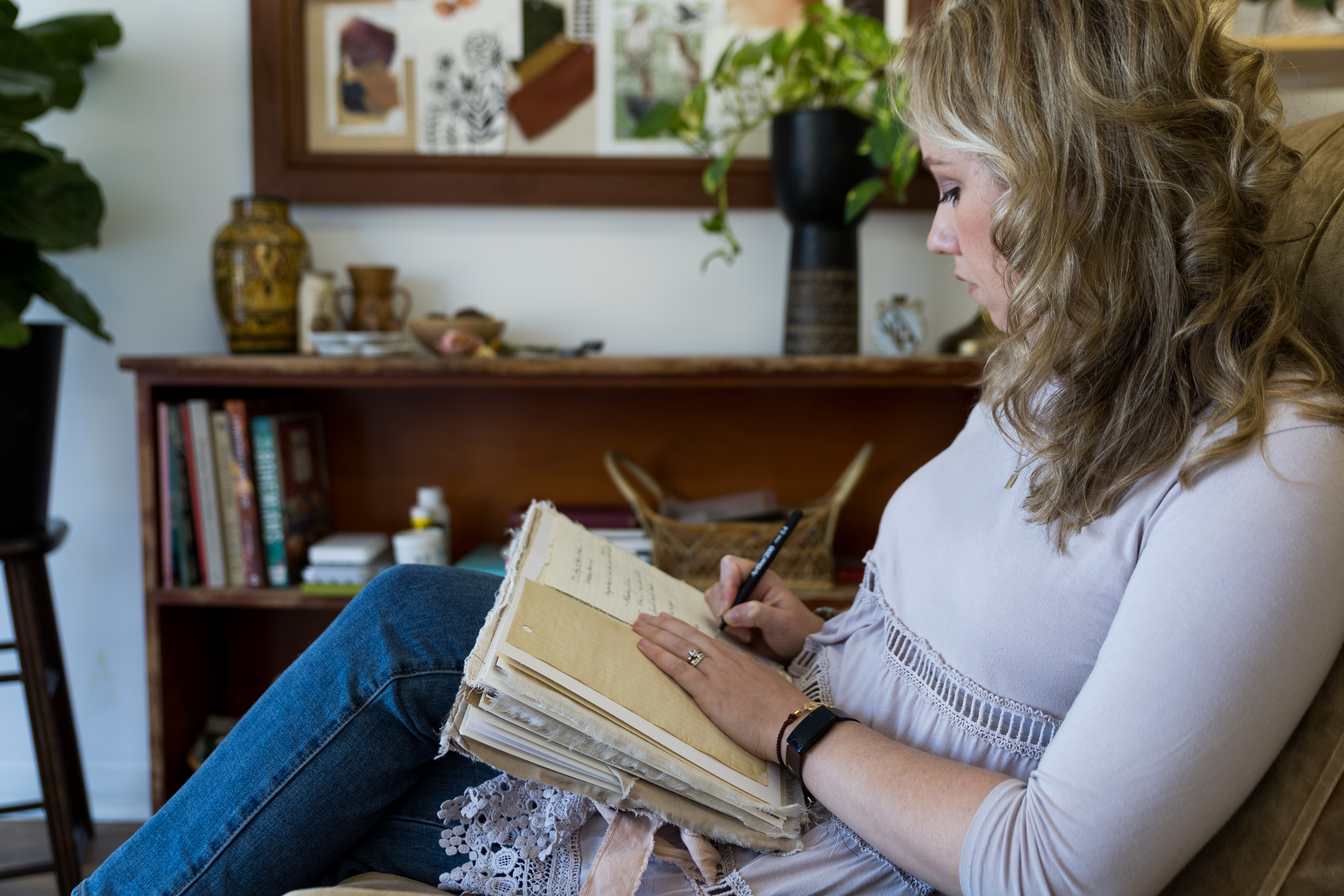 2: Gaining a Deeper Understanding of Self
To make art that feels like your own you need to know what it is you love and don't love. This is where things like mood boards and sketchbooks come into play. Not every thing you touch needs to be a masterpiece. Small scribbles and scrawls matter.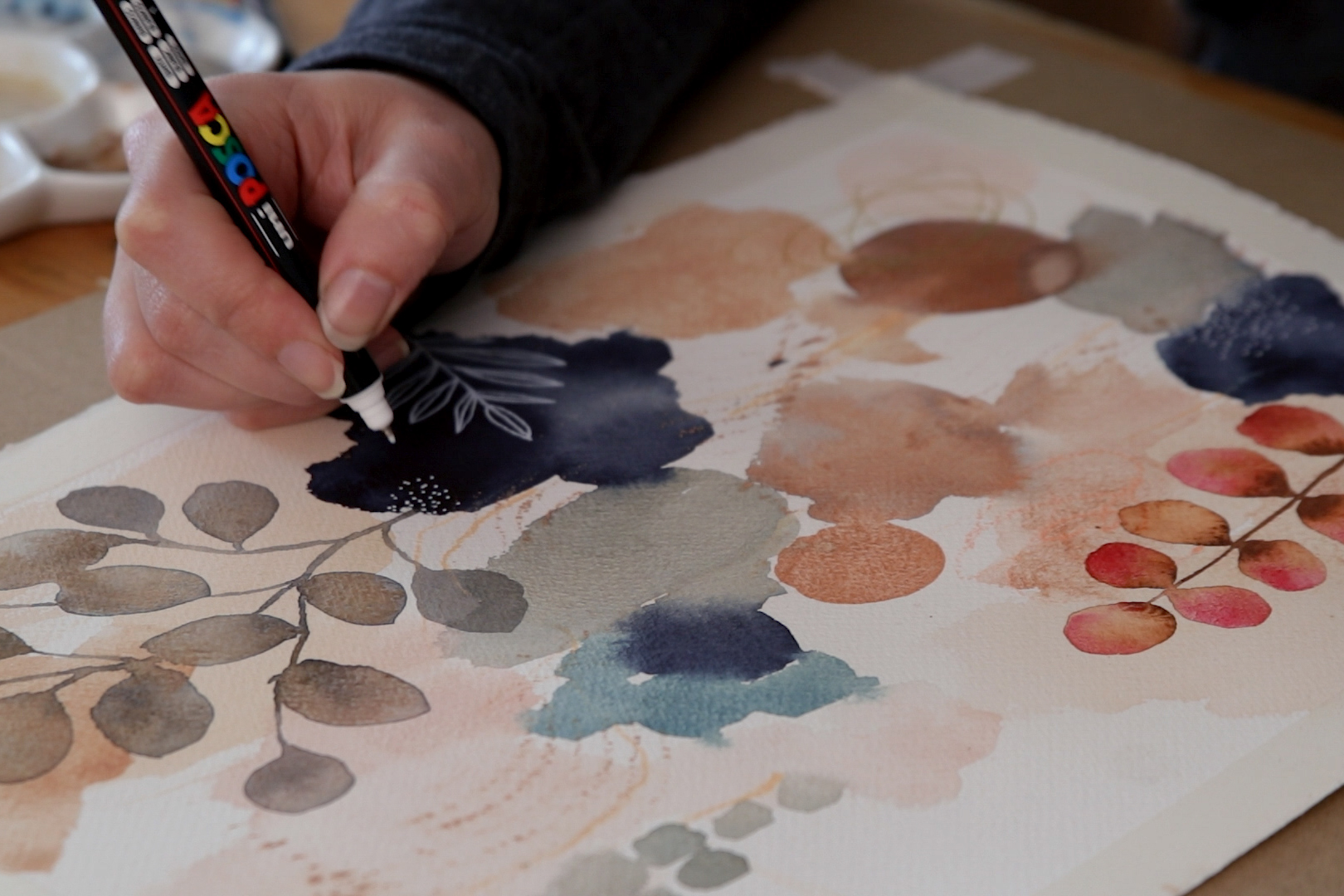 3: Approaching Work with Intention + Intuition
There is a delicate balance between intention and intuition. Having the freedom to explore is essential but there is also power in parameters. Combining these two things together (play + parameters) makes it easier to learn core skills in a way that is fun.
Are you ready to dive in?


The Modern Mixed Media Online Course will begin on October 15, 2021.
Spaces are limited!!
WHAT IS INCLUDED ...


10+ hours of Professional Videos
Over the 6 weeks, you will receive a variety of video lessons. There will be warm-ups, tips videos and start to finish painting projects. The videos have been beautifully edited and broken down into manageable chunks. All videos are downloadable and the class comes with lifetime access. Scroll down for a detailed outline of the modules.
Resource Library
In addition to the weekly content, there is also a resource library with in-depth videos about the supplies I use. In these videos I answer the most common questions that I get asked. From what paper I prefer right through to my favourite Daniel Smith Watercolors - it's packed with helpful and practical information to get you started.
Written Materials
The videos are accompanied by written content in the classroom. Several high-quality interactive PDF guides are also included as part of the class. Many students have commented that the written component is just as helpful as the video content in my courses.
Classroom + Community
All content for the class is housed in a private, password-protected classroom. In the classroom, you will be able to watch the videos, read the materials, ask questions and share your work. There is also an optional Facebook group where you can connect with other artists from across the globe. Throughout the 6 weeks I will be present in the Classroom and Facebook Group to provide support.
Materials


Please don't worry if you do not have all the supplies on the list. I encourage you to use what you have and mix things up. That's often when the most exciting things happen!


At a minimum you will need watercolour paper, watercolour paints, a mixing palette, paper towel, water container, brushes and a small selection of pens, pencils and pastels. I demonstrate all sorts of other goodies in the course but you certainly don't need everything.


Many students enjoy watching the lessons before making their supply choices.
Class Outline
There are four main areas that will be covered during the 6 weeks. Scroll down to find out more.


Part 1: Bohemian Botanicals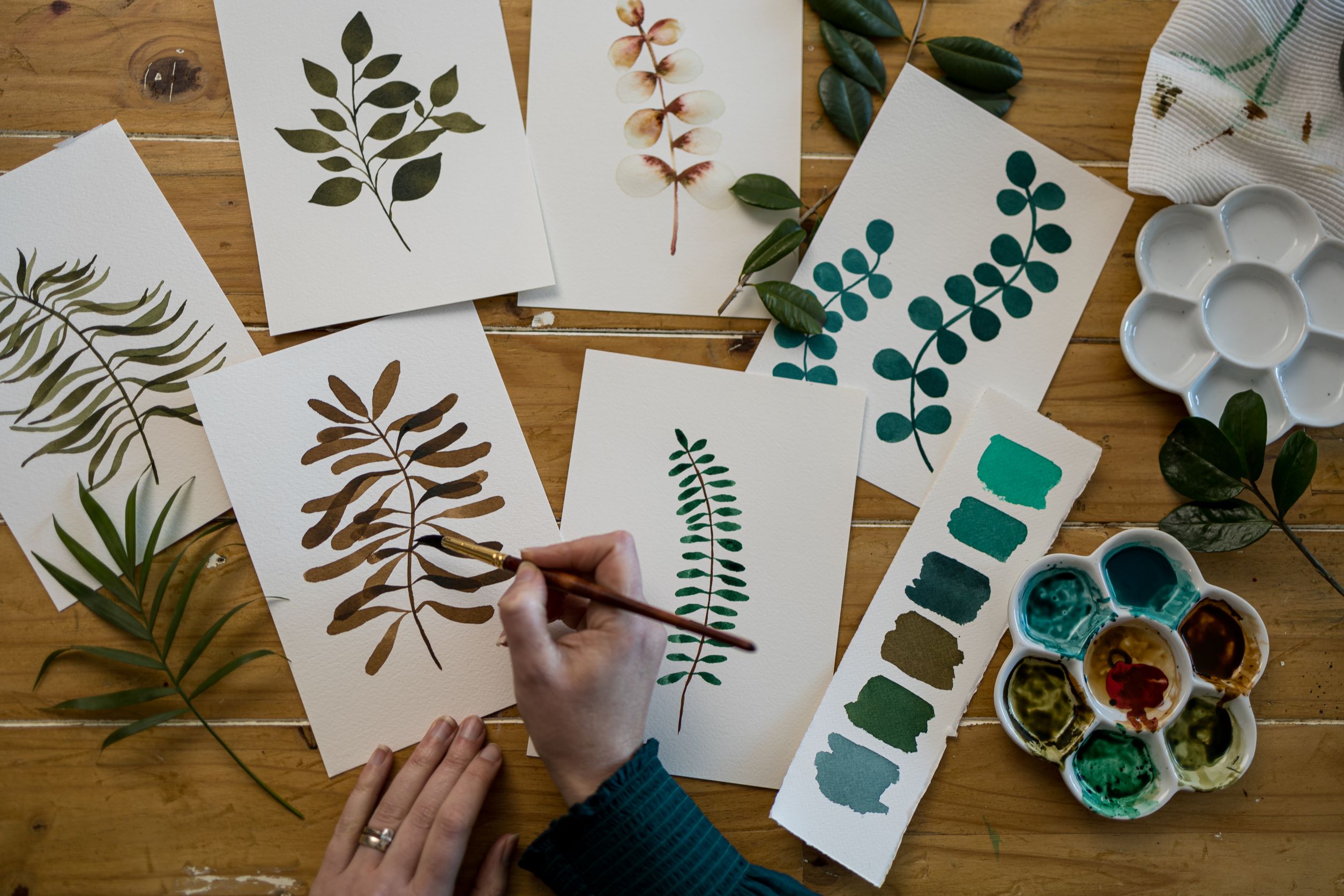 Build your reference library
Discover the benefits of studies, sketchbooks and mood boards.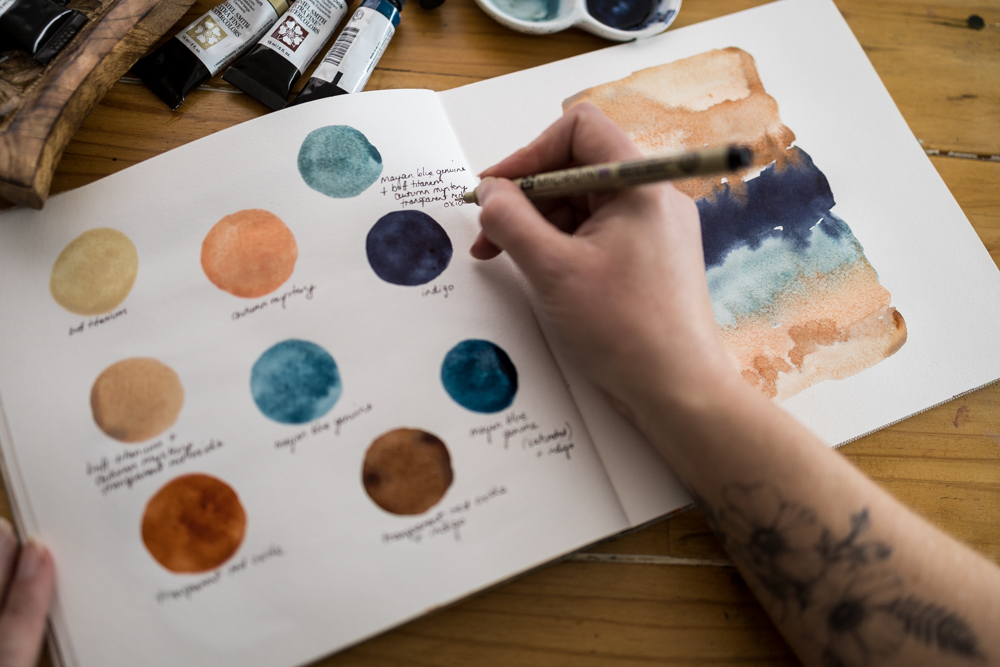 Confidently choose colours
Find out how to choose and adapt colours until they feel just right!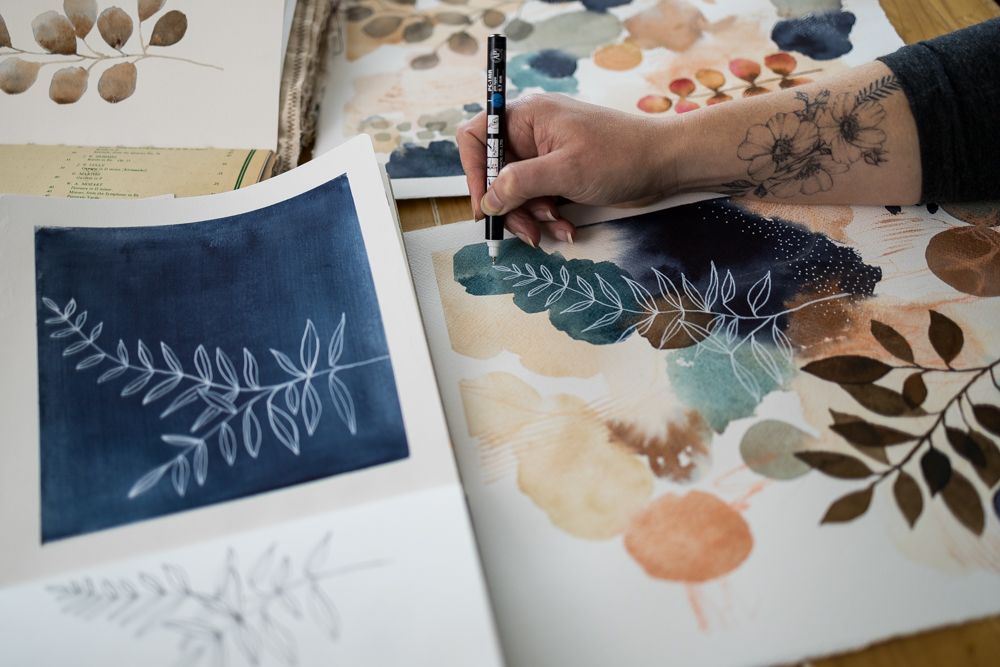 Use contrast and repetition
Learn core skills while completing several start-to-finish botanical painting projects.
Part 2: Seeking Simplicity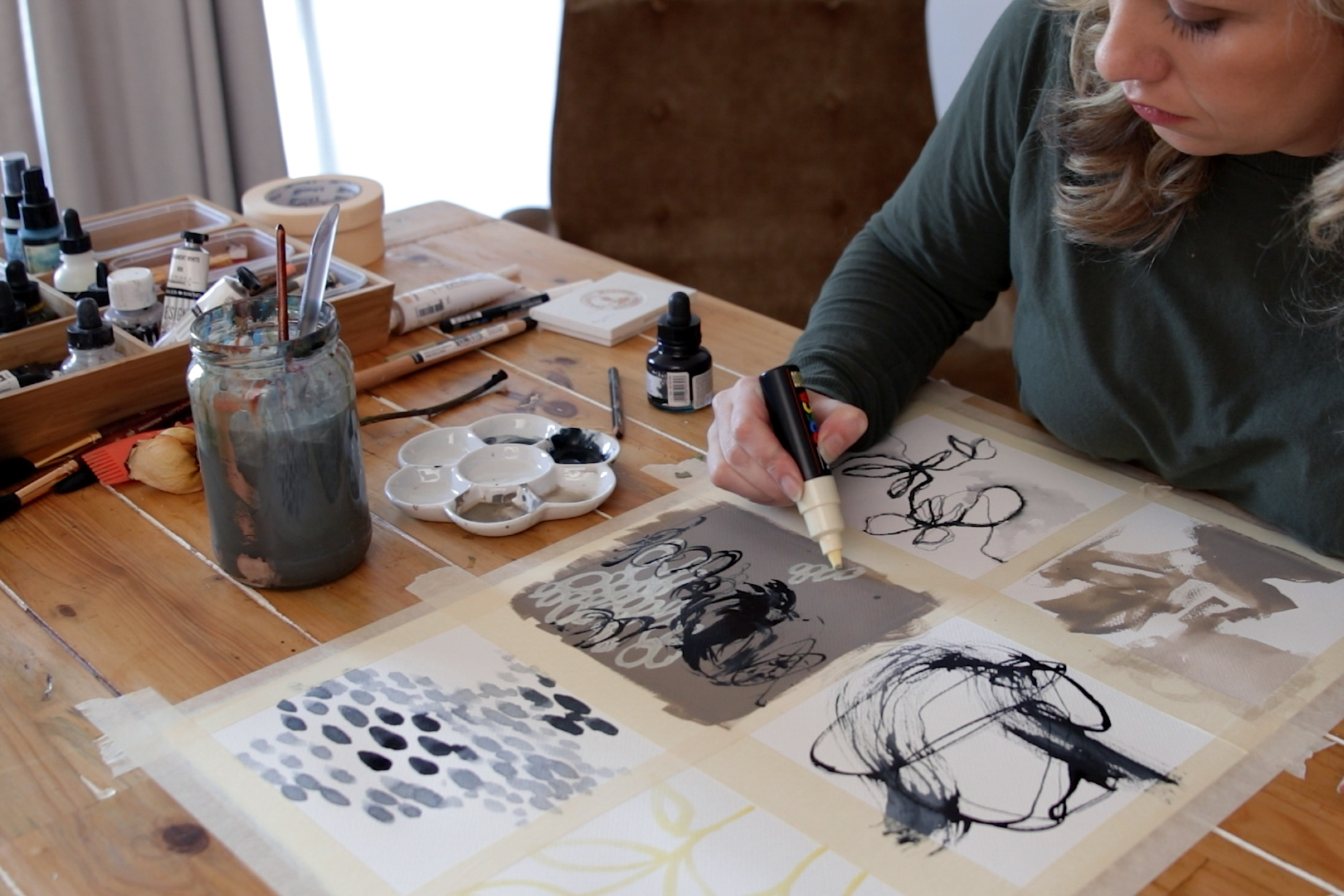 Loosen up with limitations
Think outside the box and generate new ideas for your art with quick warm-up exercises.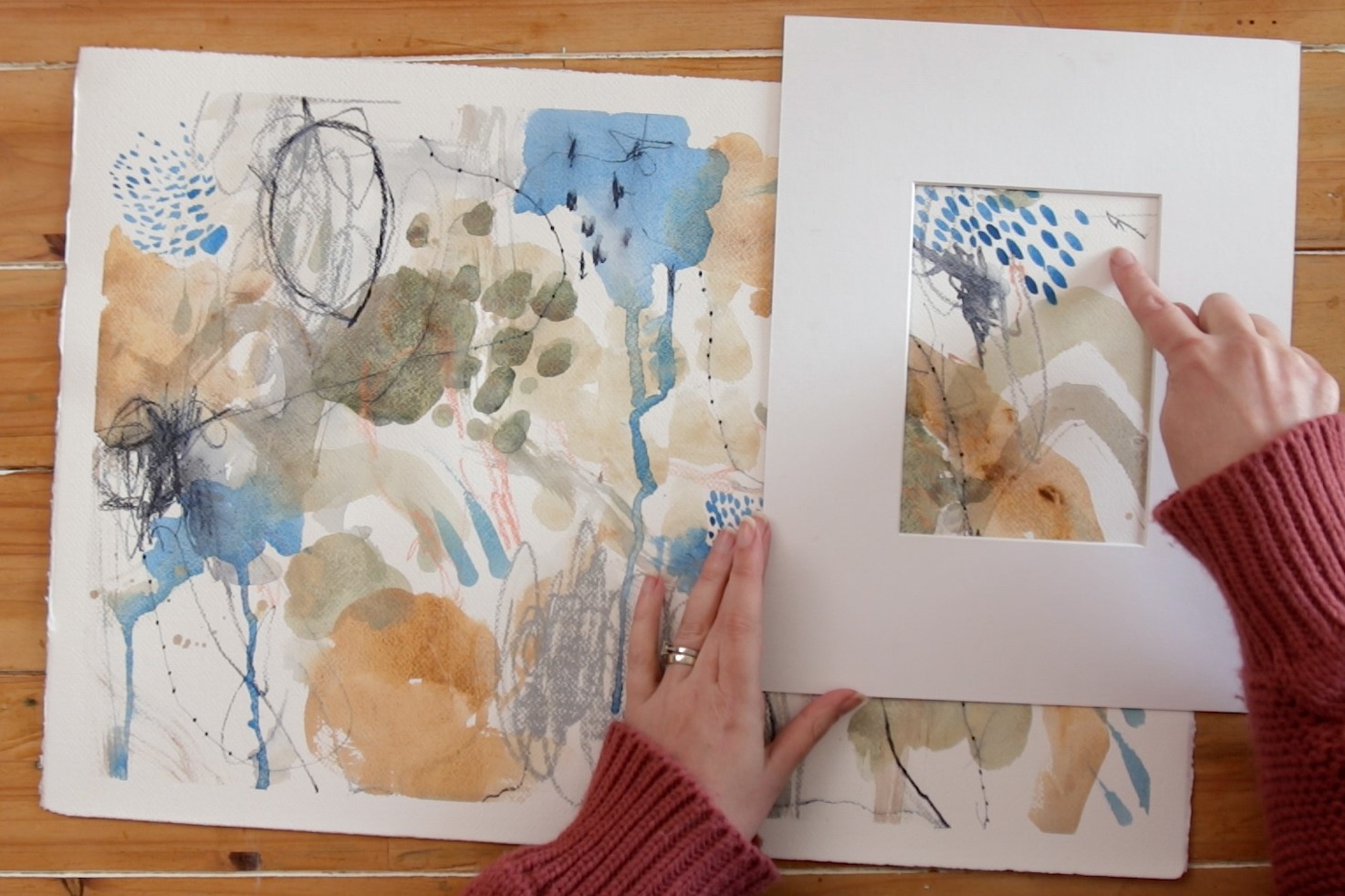 Find calm within the chaos
Use a viewfinder to discover aesethetically pleasing compositions within a larger piece.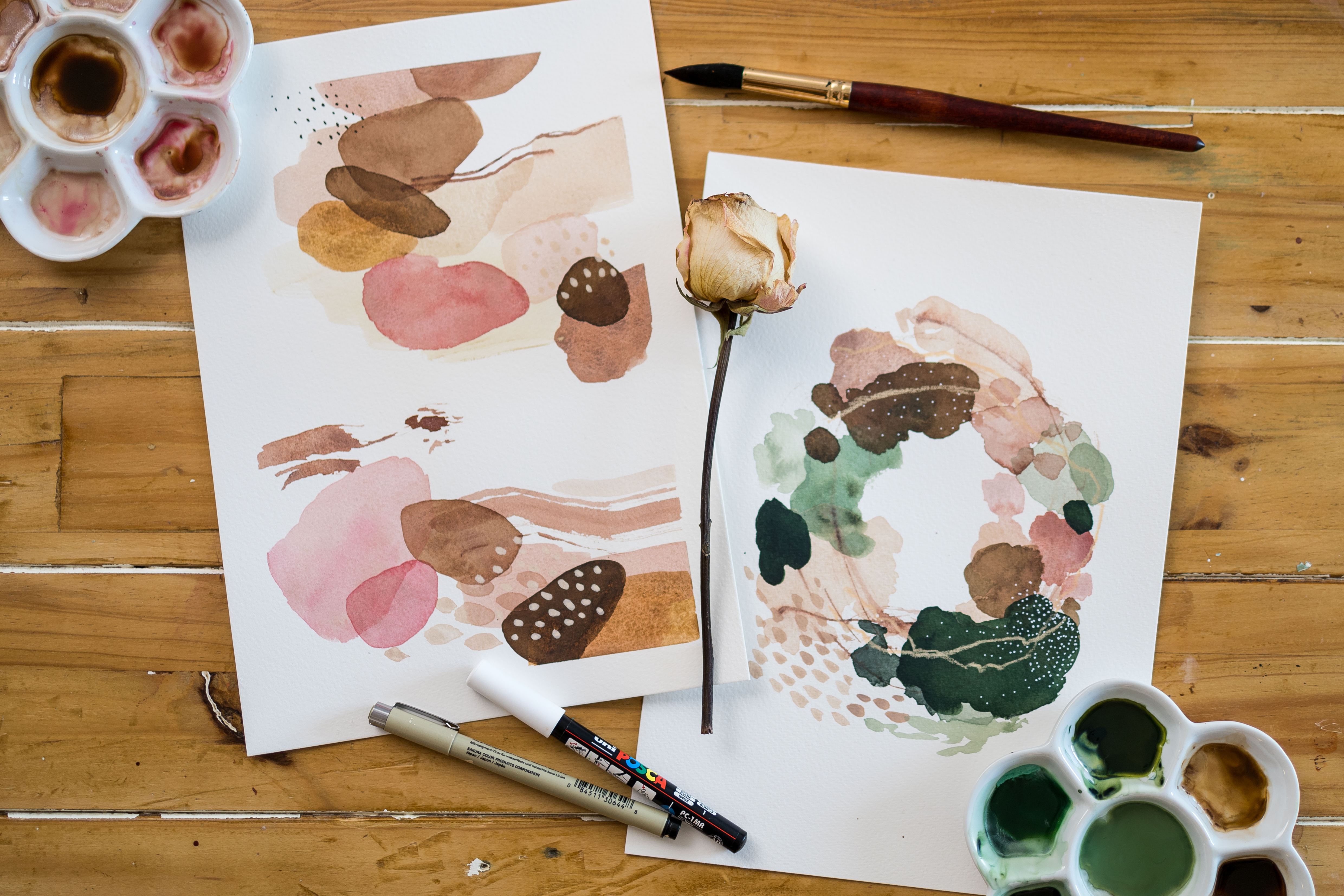 Embrace white space
Become more intentional about your negative space and create simpler abstracts.
Part 3: Texture, Texture, Texture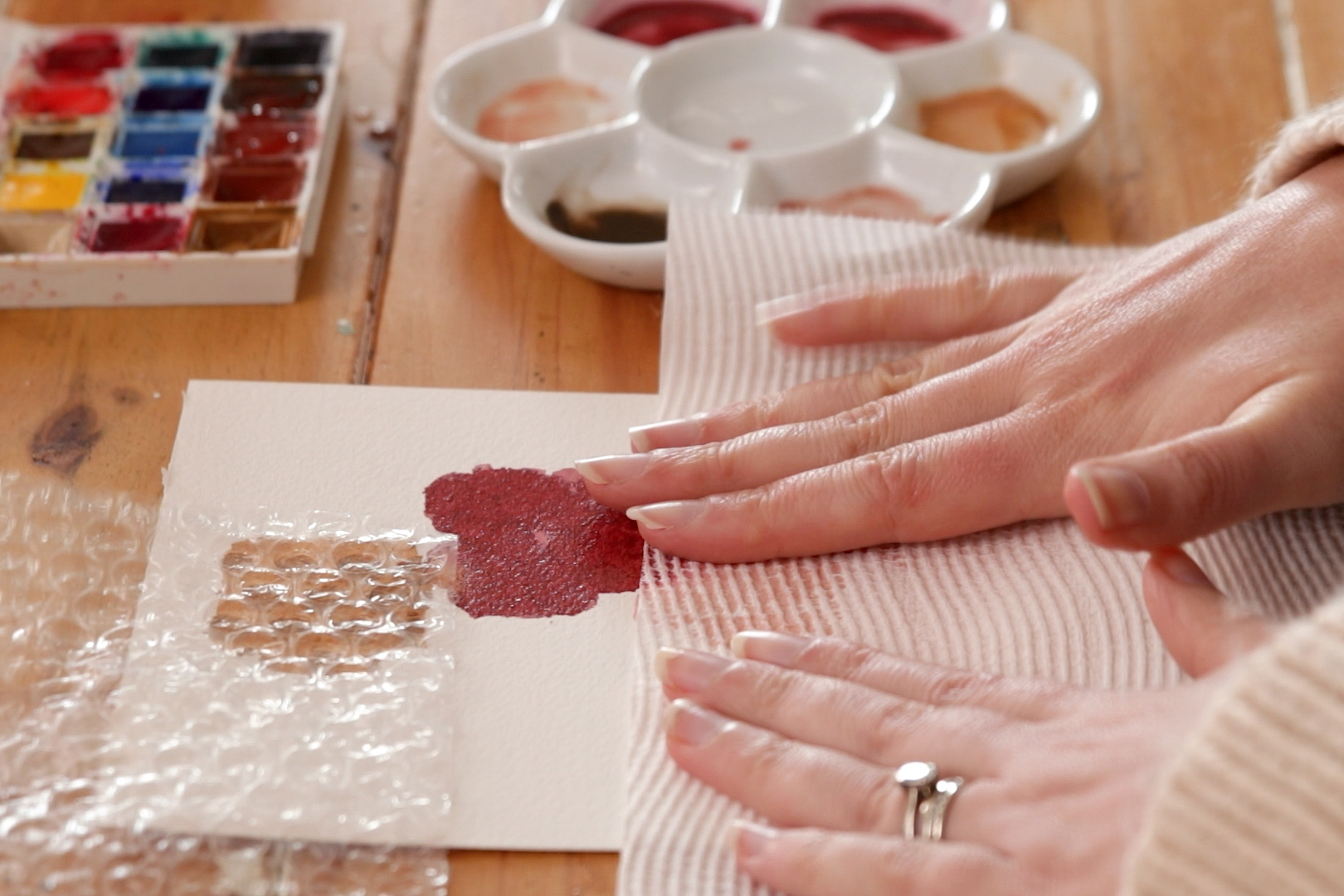 Experiment with texture
Try gold leaf, palette knife painting, drips, stamping, stitching and more!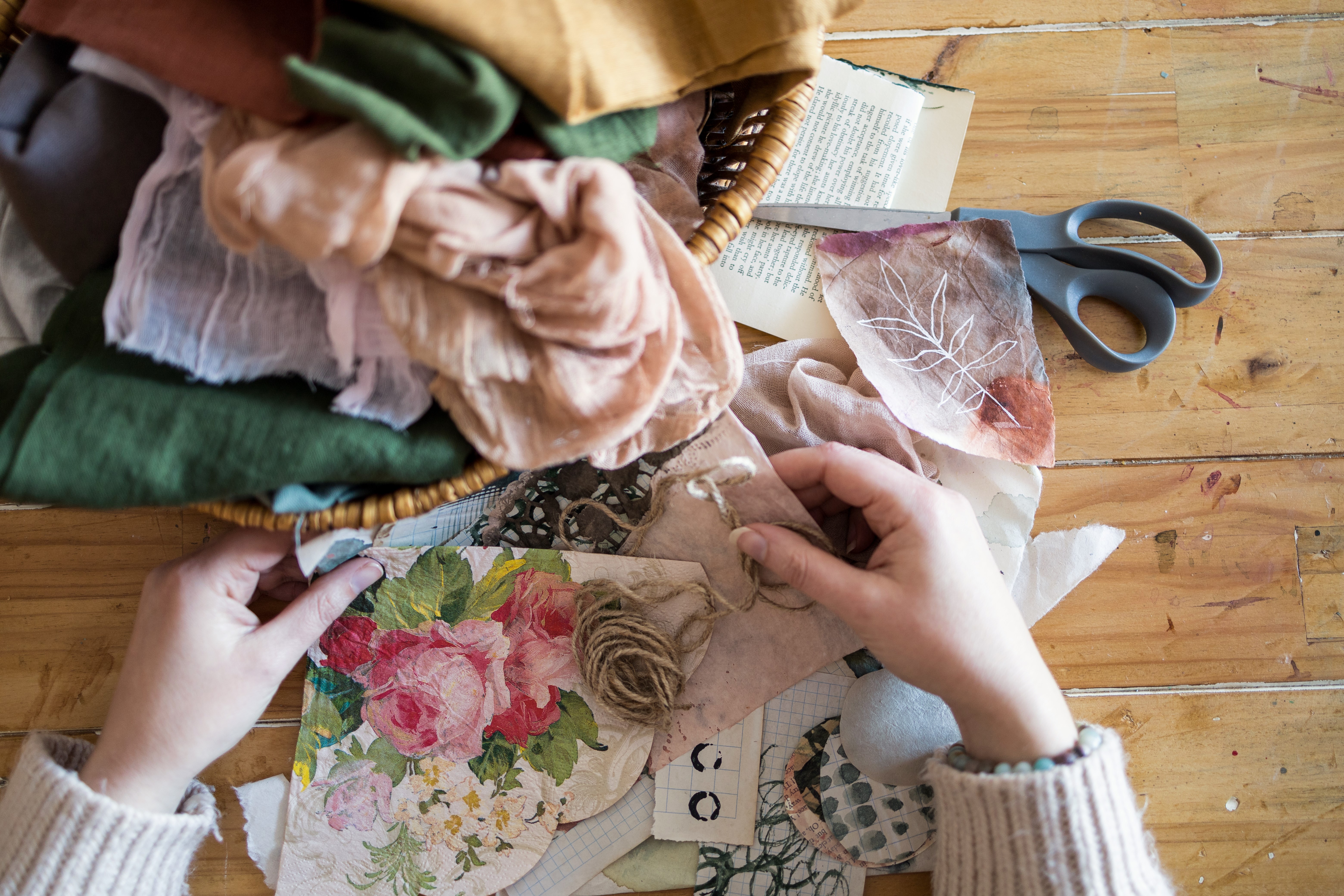 Reuse and repurpose
Use up your scraps and snippets in a mixed media collage.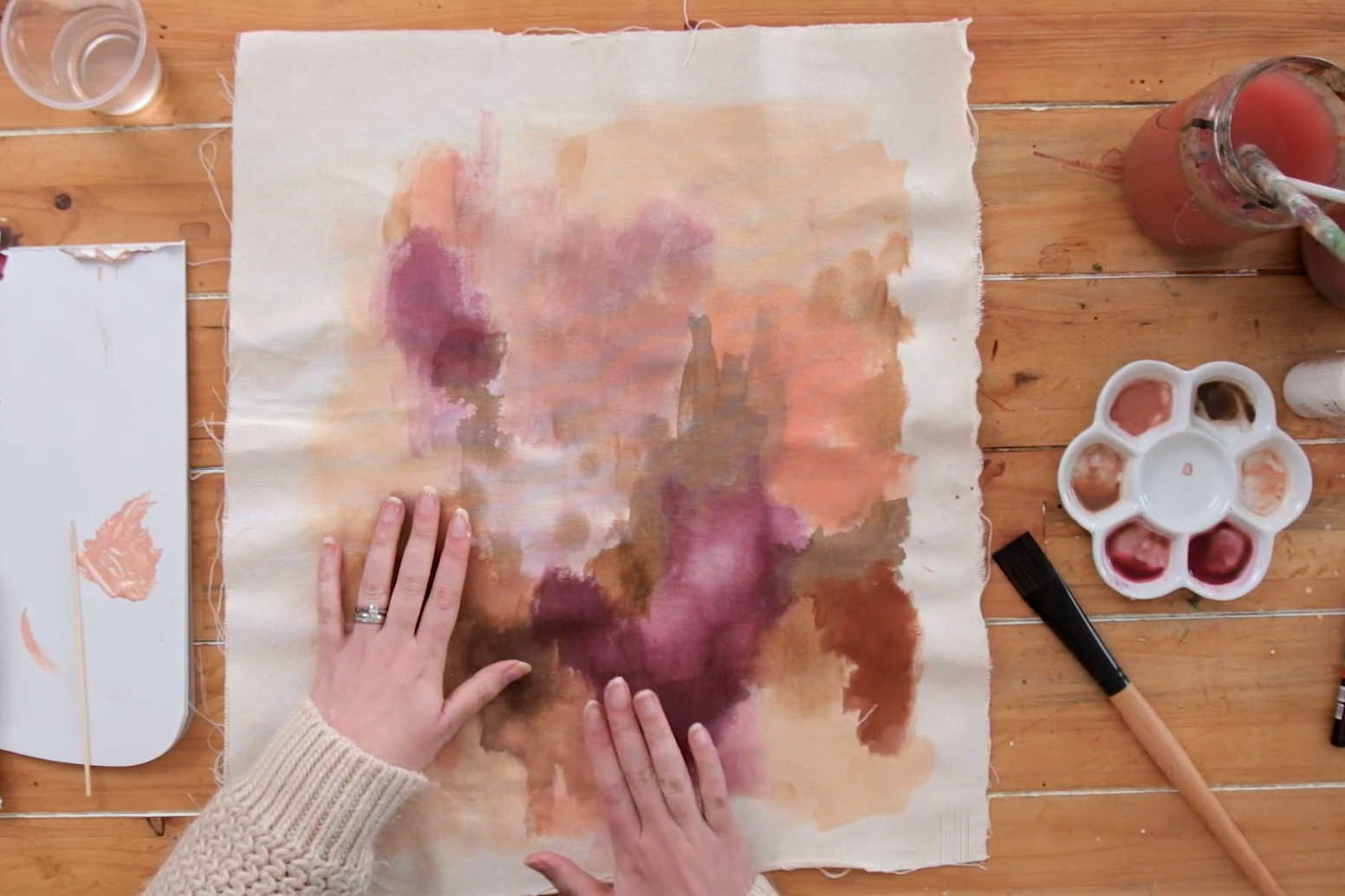 Try a different substrate
See what happens when you work on raw canvas or give aquaboards a go.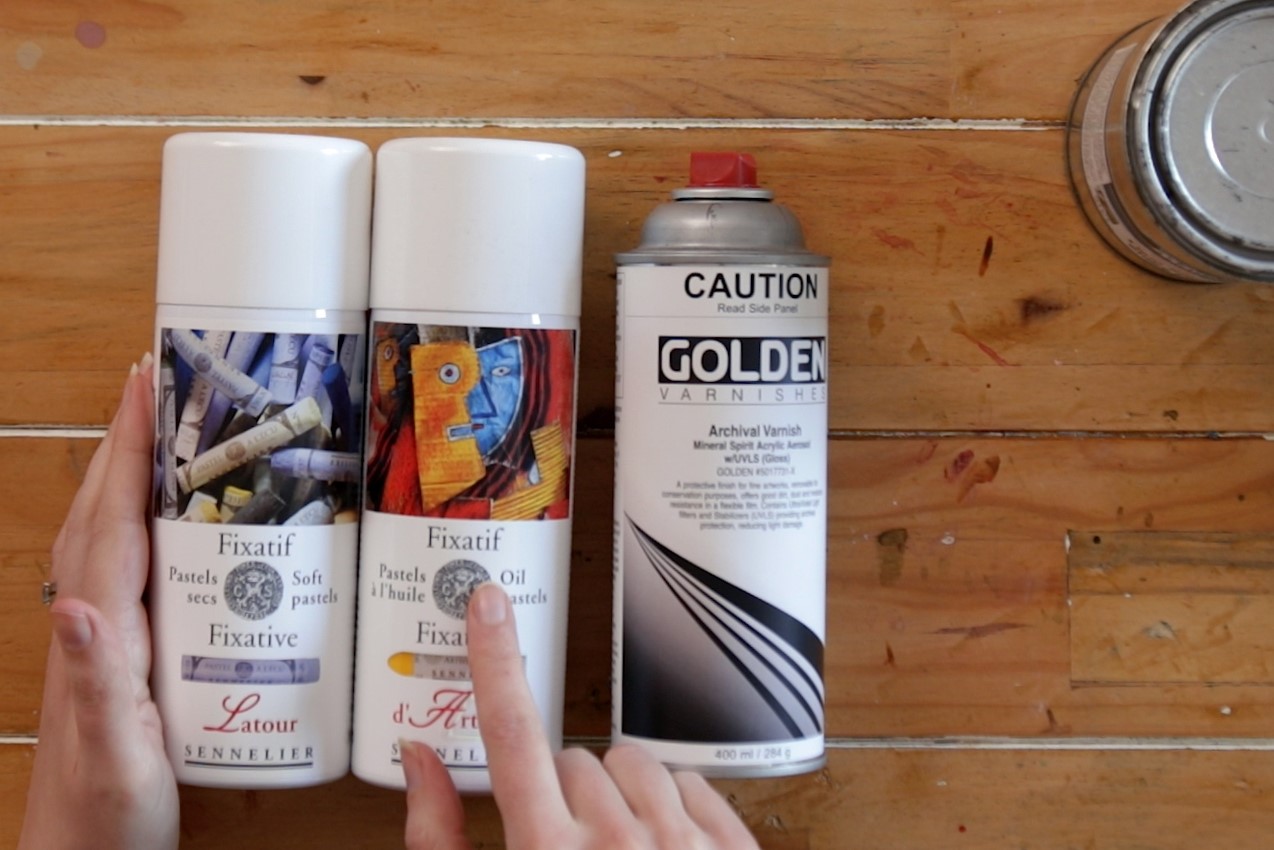 Seal and protect
Find out different ways to seal and varnish your work depending on the materials used.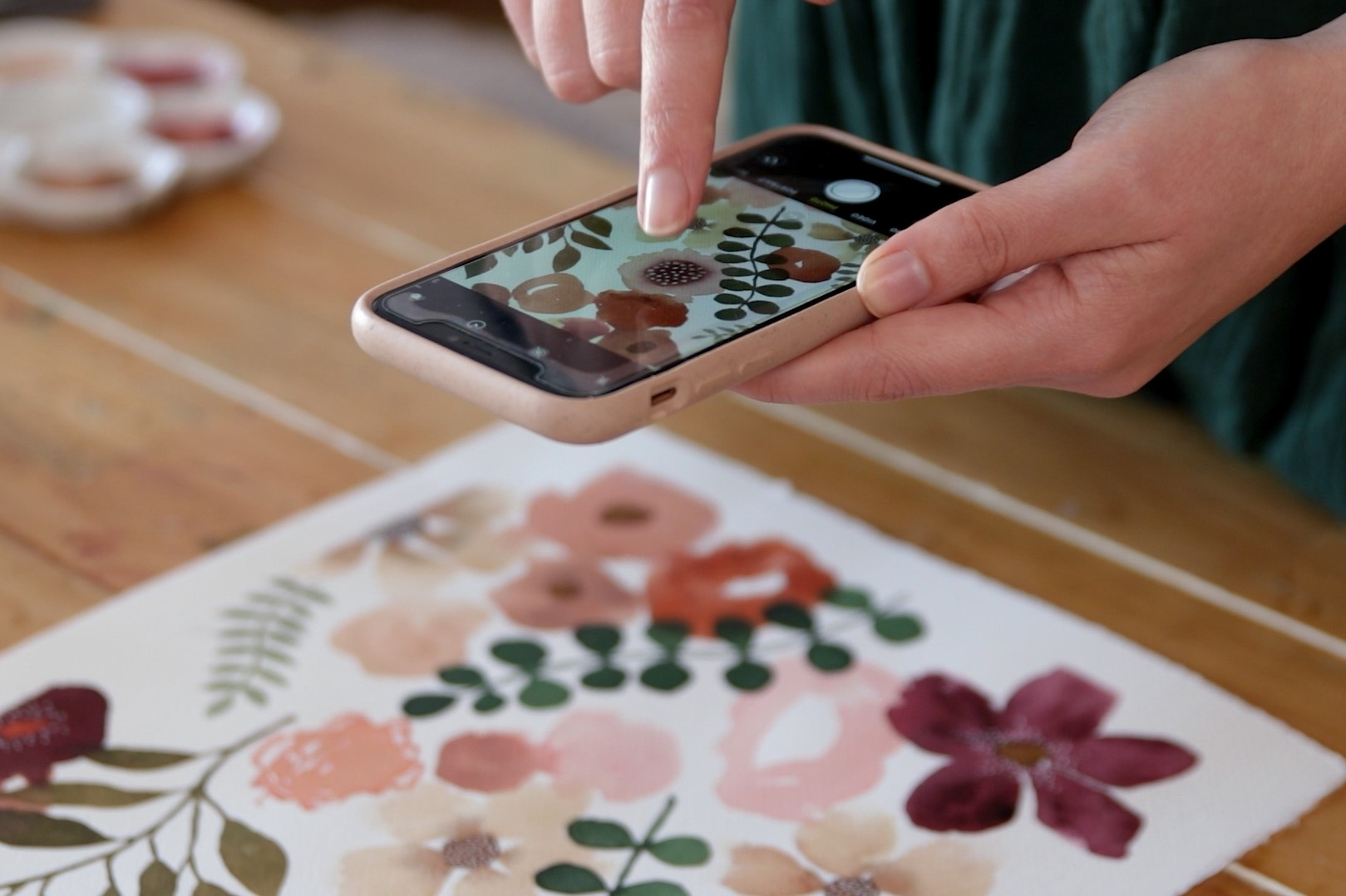 Take beautiful photographs
You've come this far so let's do your work justice with quality photographs.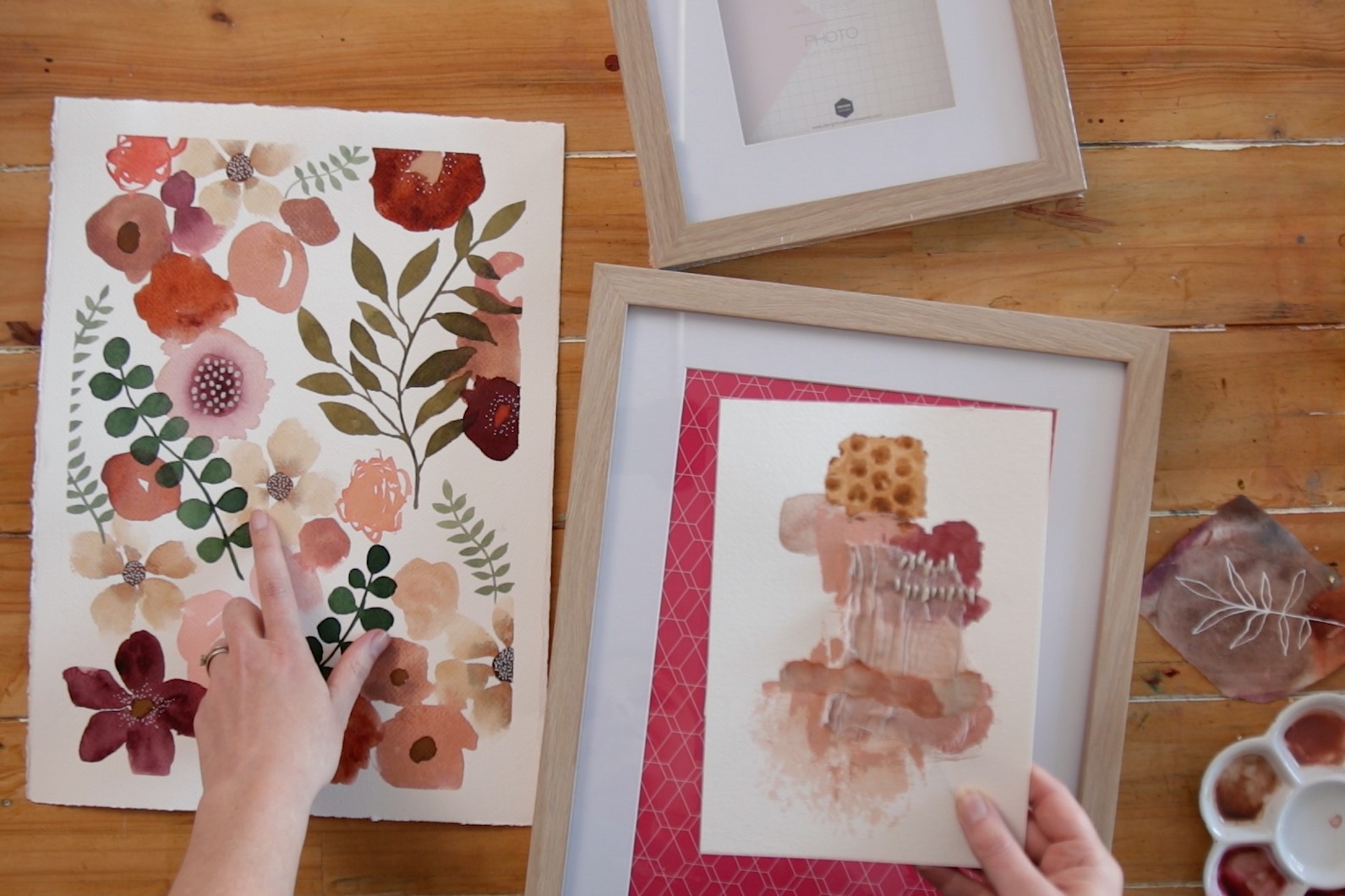 Frame and enjoy!
To finish off, I'll share my top framing tips so you can hang and enjoy your creations.
New to mixed media art?
This course is for anyone that wants to connect with their creativity. The content caters to all levels and there is a resource library with handy tips for getting started.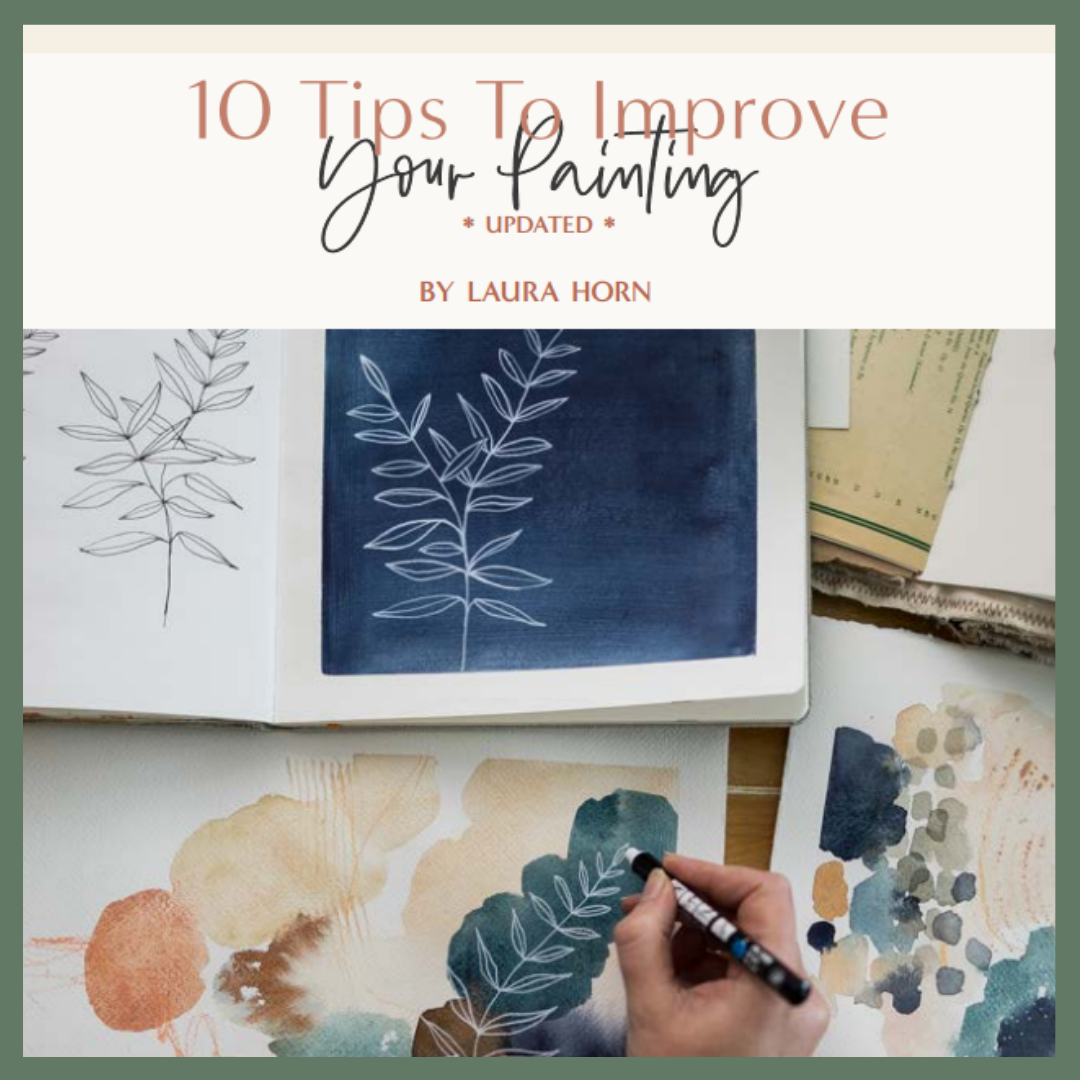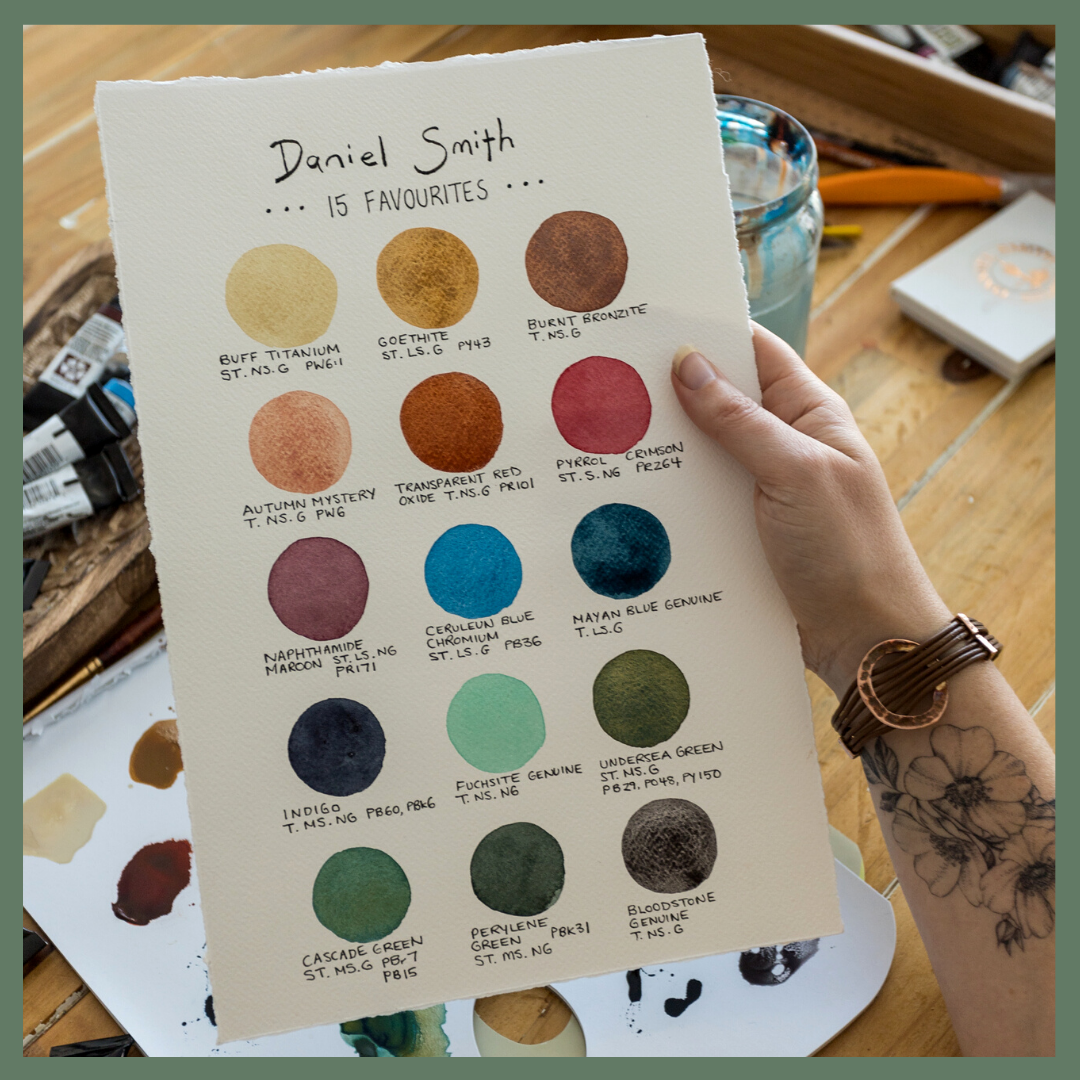 Watch Supplies Videos
Frequently Asked Questions...
When does the course start and finish?
The course begins on October 15 and runs for 6 weeks ending on November 25. Content is delivered weekly via the Teachable password-protected classroom.
Is this the same content that was provided in previous intakes?
Yes, this is the same content. If you have purchased this course before, please do not purchase again as you already have lifetime access to the content.
What type of content is provided?
The course is delivered via pre-recorded videos. The video lessons are accompanied by written notes and PDF guides. There is no live component to this course though I do drop into the classroom to answer questions and provide feedback throughout the 6 weeks.
How long do I have access to the course?
The course comes with lifetime access. You will have unlimited access to this course for as long as you like. You may keep and download all content.
What level is the course suitable for?
This course is for anyone who has an interest in mixed-media abstract art. It is suitable for complete beginners and more experienced artists.
What materials do I need?
You can download the supplies list here. Note, the materials are not included in the cost of the course. Please think of the supply list as a guide. I encourage you to work with what you have and adapt the course to suit your needs.
Do I need high-speed internet for the course?
Yes, Modern Mixed Media is an online course. You will need a good internet connection to view and/or download the video content for this course.
Will there be an online community for this course?
Yes, there will be a private Facebook group for the October 2021 intake of Modern Mixed Media. You can also use the hashtag #mmmcourse when sharing your work on Instagram and other social media platforms.
What support will be provided by you?
For the 6 weeks that Modern Mixed Media is running, I will check in on the Classroom daily (Mon-Fri). I will where possible answer specific questions but due to the number of students, I am unable to respond to all posts. For technical queries please email [email protected]
Can I exhibit or sell work created during the course?
If the work that you create is unique and different to the class projects - absolutely! If your work is very similar to mine, I would ask that you don't sell or exhibit those pieces. If in doubt, please email me.
The course is in USD, how do I know what the price is in my own currency?
The USD amount will be converted at checkout by Stripe (if you are using a credit card) or by Paypal. You can also get an approximation by checking the conversion rate using XE Currency Converter.
Do you offer a payment plan?
Yes, you can pay for the course in 2 monthly payments of $165 (USD).
What is the refund policy?
Once you are enrolled in the course I am unable to offer a refund. I encourage you to contact me if you have any questions about the course prior to signing up.