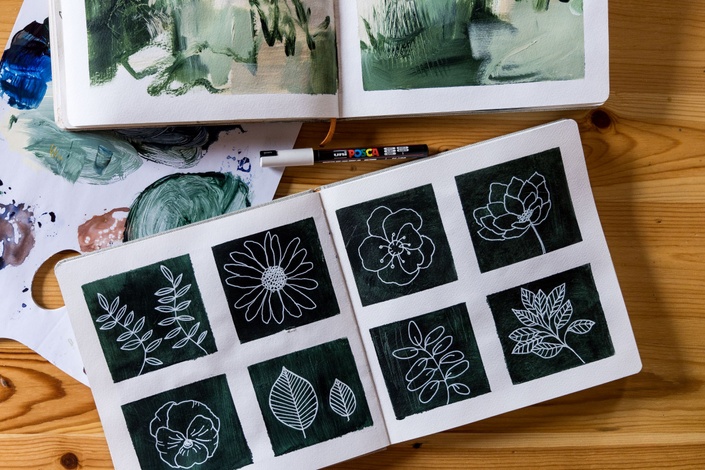 FREE Creative Elements Challenge
Build up your vocabulary of colours, marks and imagery!
This course is closed for enrollment.
FREE 5 Day Challenge

AVAILABLE FOR A LIMITED TIME ONLY!
The Creative Elements Challenge is happening 10-14 February, 2021.
---
Over 5 days you will ...


Generate ideas and let go of the fear of messing up.

Get comfortable and brave in your sketchbooks.

Develop your vocabulary of colours, marks and imagery.

Bring more personality and spark to your art.

Reconnect with your creativity in a way that is fun and FREE!!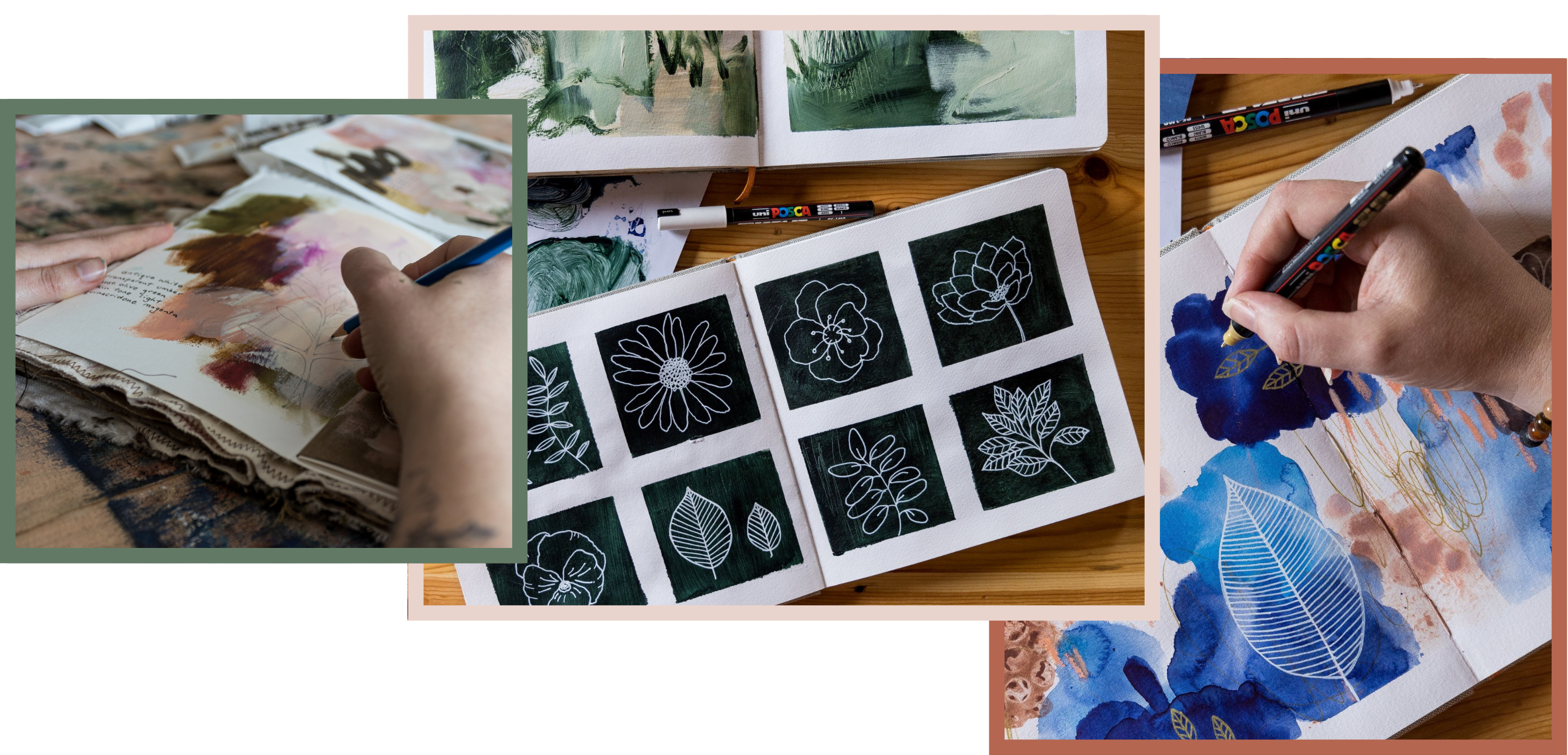 How does it work?
Each day, during the challenge, a video will be uploaded to the Teachable classroom.
The video will outline the daily creative task and provide tips, ideas and inspiration.

Each video is short (approx 10 minutes) and easy to put into practice.

Once uploaded, the video lessons will remain available to view until 2 March, 2021.

As you progress through the challenge, you can share on social media using #creativeelementschallenge and you can tag me @laurahornart.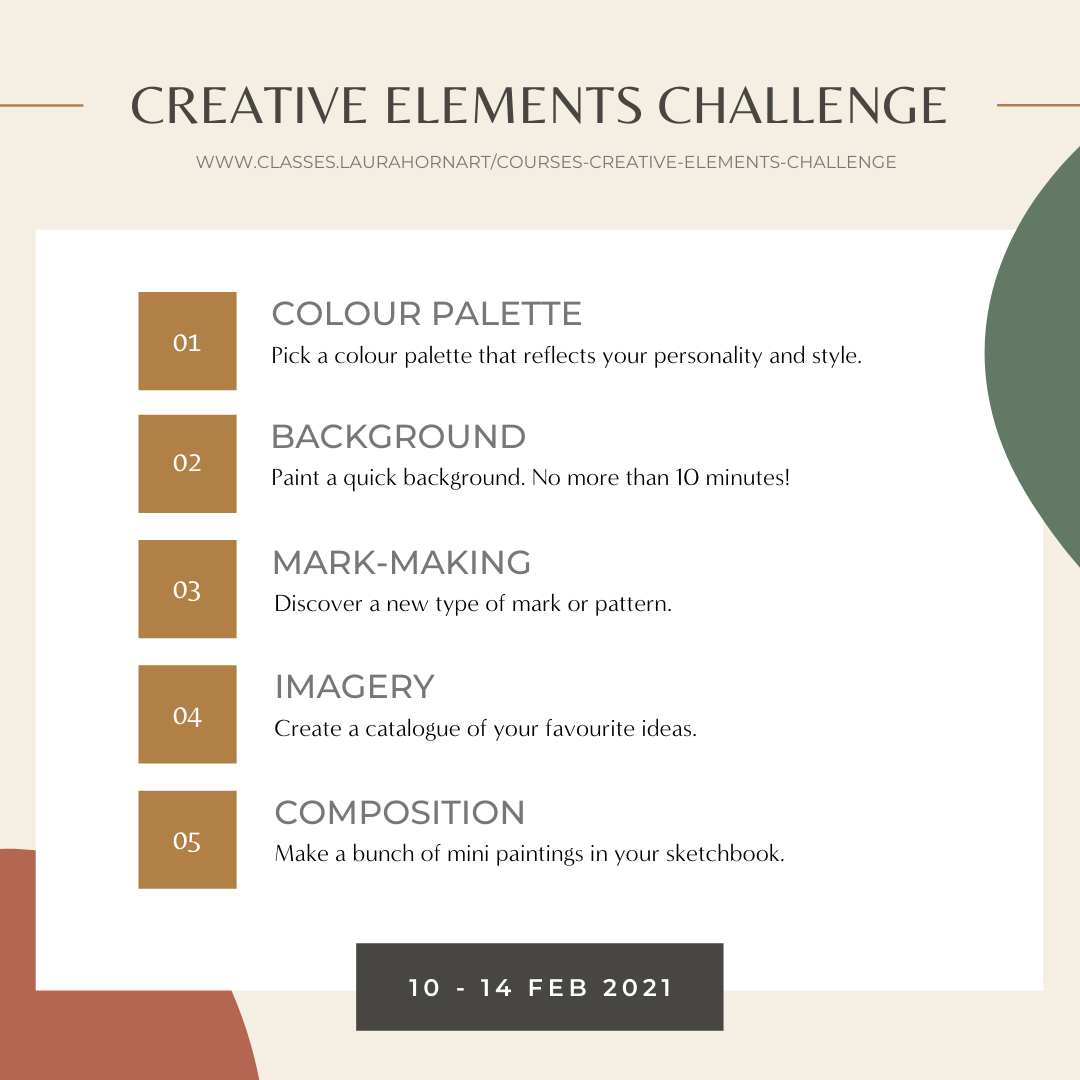 What happens after?

At the end of the challenge, you will be provided with the opportunity to continue the adventure and join my 6-week ecourse (Modern Mixed Media) at a reduced rate. This is completely optional! I am very happy for you to enjoy the challenge on it's own. It's going to be a wonderful experience and bring together creatives from all over the globe. I'd love to see you inside!
Frequently Asked Questions
When does the challenge start and end?
The challenge starts on the 10 Feb and ends on the 14 Feb. Each day I will upload a video into the Teachable classroom. You will also get an email notification (unless you have opted out of emails).
How long do I have access to the challenge content?
While the challenge ends on the 14 Feb, you will have access to the content until the 2 March 2021. On 2 March, the content will expire. Please keep this in mind so you don't miss out!
Who is this challenge for?
It doesn't matter if you are a complete beginner or a more experienced artist, this challenge is for EVERYONE!
What supplies do I need?
Firstly, I would take a look at what you have to hand. This is a challenge rather than a class. The lessons are very open-ended and can be interpreted in many ways. Suggested supplies include a watercolour or mixed media sketchbook, paints (can be watercolour or acrylic), a few mark-making supplies (e.g. pens, pastels, pencils) and some magazines for collage. I would also suggest a paint palette, water container, rags/paper towel, brushes, gel matte medium or glue stick and some painter's masking tape or washi tape. We may also use everyday items around the home and garden!
Do I need high speed internet for the challenge?
Yes, you will need a good internet connection to view the video content for this challenge. You can still participate though, even if you don't view the videos.
Will there be an online community for this challenge?
Yes, feel free to ask questions, leave comments and share your work within the classroom. You can also share your work on Instagram using the hashtag #creativeelementschallenge and tag me @laurahornart!
Your Instructor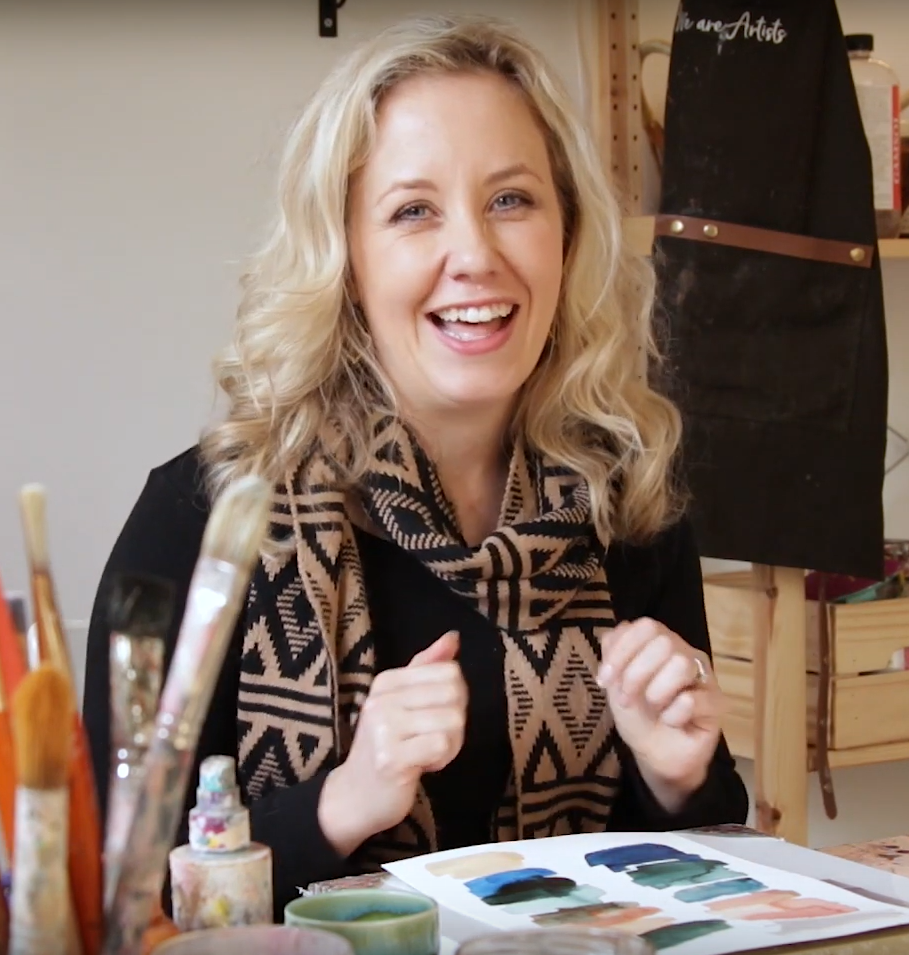 Hi I'm Laura, a mixed media abstract artist from Adelaide, South Australia. Welcome to my online classes. Here you will find tips, techniques and step-by-step lessons to grow your skills, confidence and creative style. I'd love for you to join me!

This course is closed for enrollment.