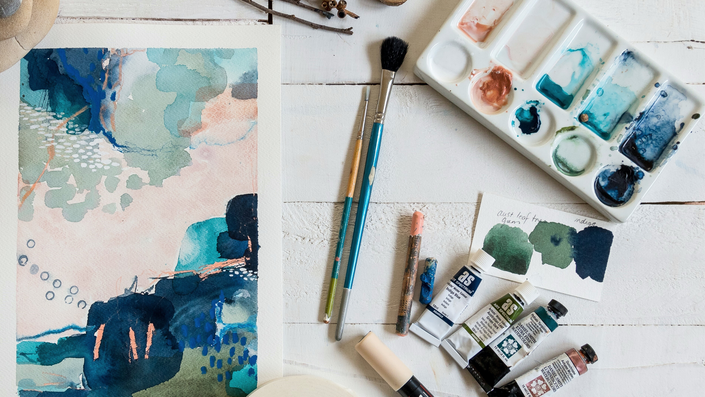 Simply Slow + Stepping Stones
Slow down and unwind with these simple nature-inspired watercolour projects.
Watch Promo
Nature-Inspired Bundle
Two classes for $35 USD


Instant Access Course
self-paced
downloadable videos
lifetime access


Slow down and paint nature-inspired watercolour abstracts.
Includes two step-by-step painting classes.
Paint an abstract landscape and a pebble inspired piece.

These classes were included as part of the Make Create Express 2019 Workshop hosted by Galia Elena. You can now purchase the lessons as a 2 class bundle.
Scroll down to find out more about the two painting projects.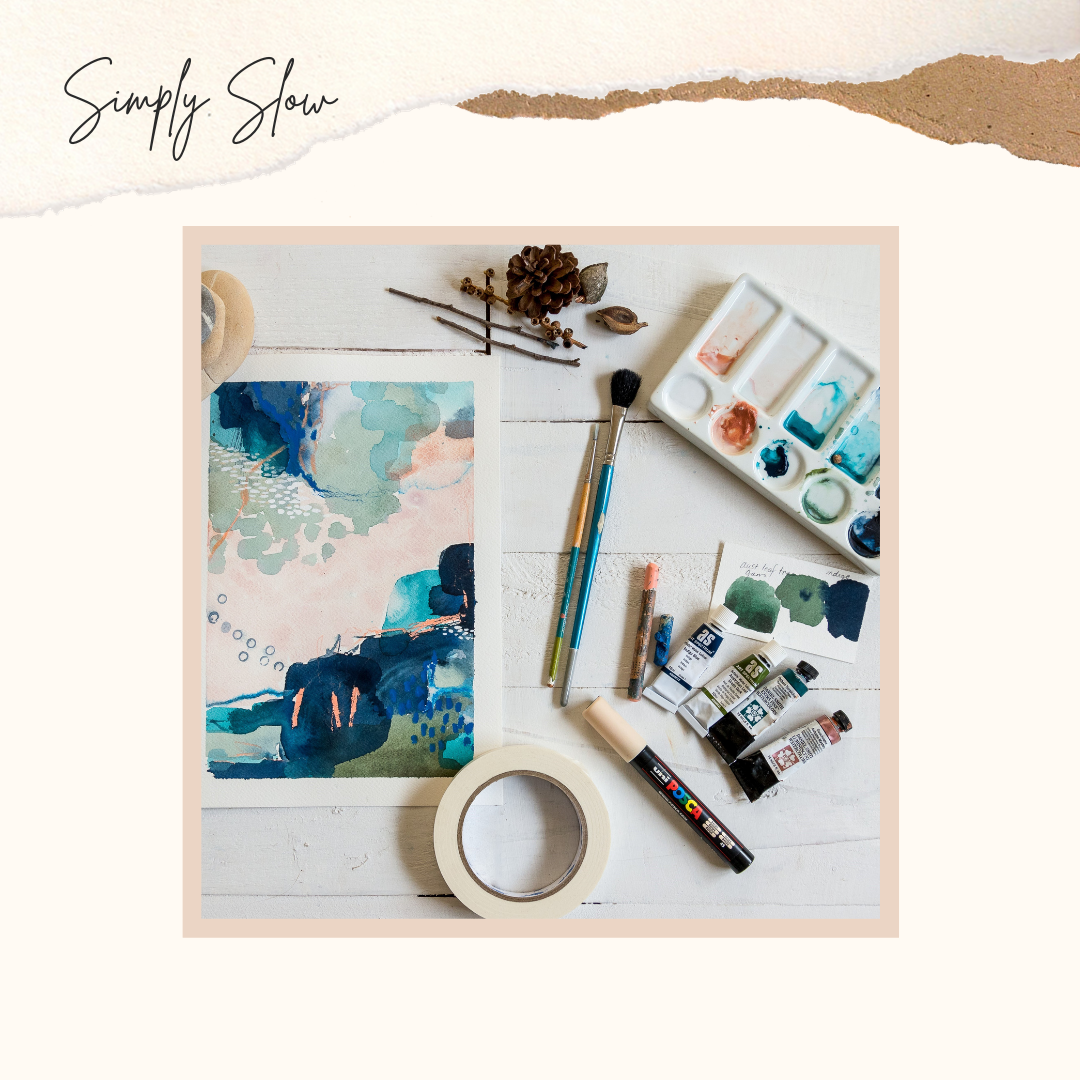 In Simply Slow we are going to engage with the sensory experience of making art and take notice of the little details like how your paint pools or the sensation of your tools scraping across the page. Using simple shapes, a limited palette and delicate patterns we'll create an abstract landscape style piece.

---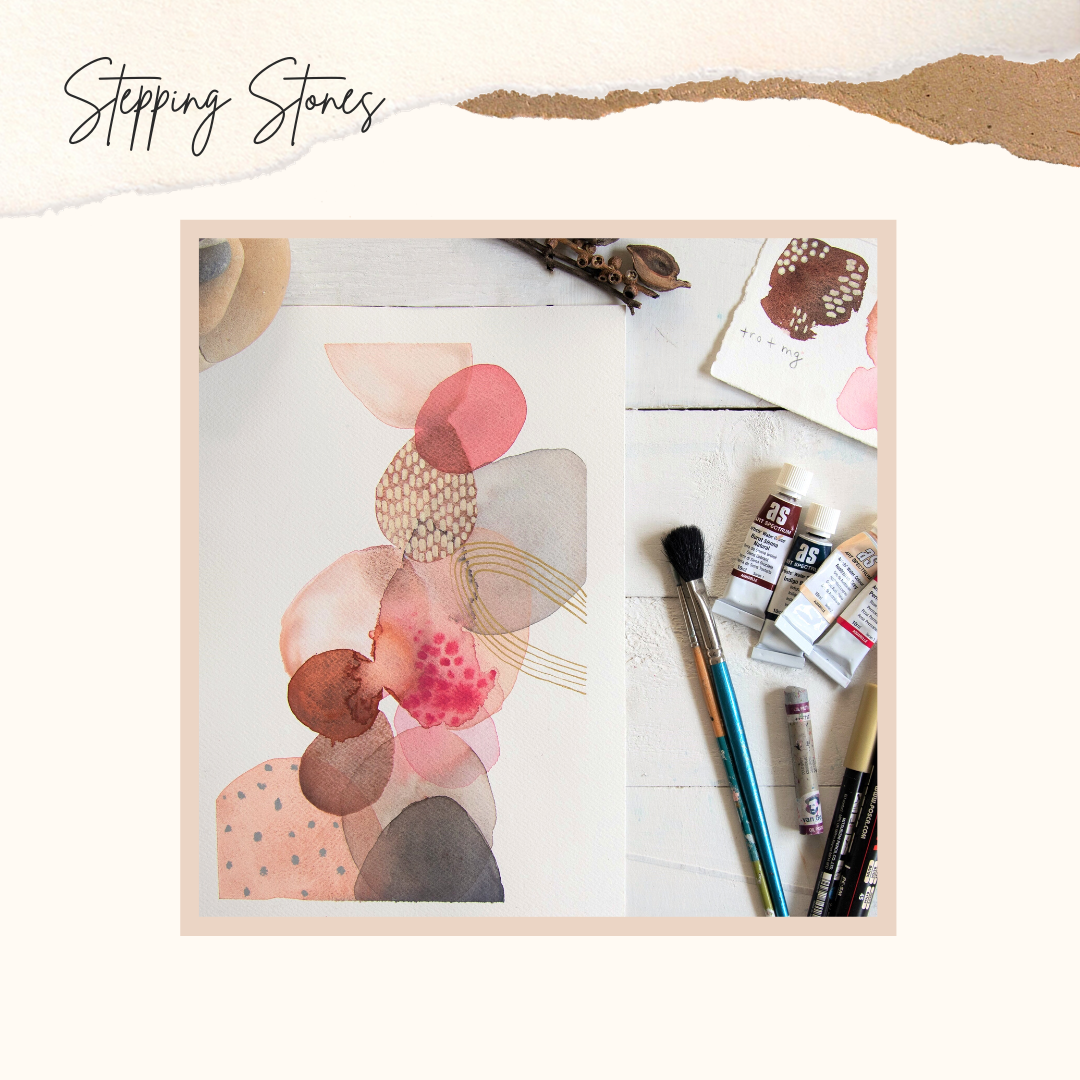 In Stepping Stones, we are going to use gathered natural items (e.g. sticks, stones, pods) to create an abstract painting. You will discover tips and tricks for choosing colours, generating compositional ideas and layering mixed media supplies. This is a relaxing and fun class suitable for anyone that wants to explore abstract art.
Course Curriculum
Simply Slow
Available in days
days after you enroll
Stepping Stones
Available in days
days after you enroll
What is Included in the Course


---
Professionally Edited Video Instruction
There are two classes (approx 35 minutes each). Each class is filmed with multiple camera angles and edited into bite-sized videos. All videos are downloadable and can be worked through at your own pace.
---
Supporting Written Material
The videos are supported with written content in the classroom. Each class also has a PDF Guide.
---
Start-to-finish Painting Projects
You will learn how to paint two different watercolour abstracts using nature as inspiration. A landscape and a pebble inspired piece.
---
Private Classroom
The course is hosted on Teachable in a private, password protected classroom. Within the classroom, you can view/download the content, share your discoveries and ask questions.
---
Facebook Community
There is an optional Facebook group where you can share your work and interact with artists from across the globe!


Class Materials
Each class has its own supply list. Scroll down to view and once signed up you will be able to download the supply list from the classroom. I encourage you to use what you have and be creative in the way that you approach the class.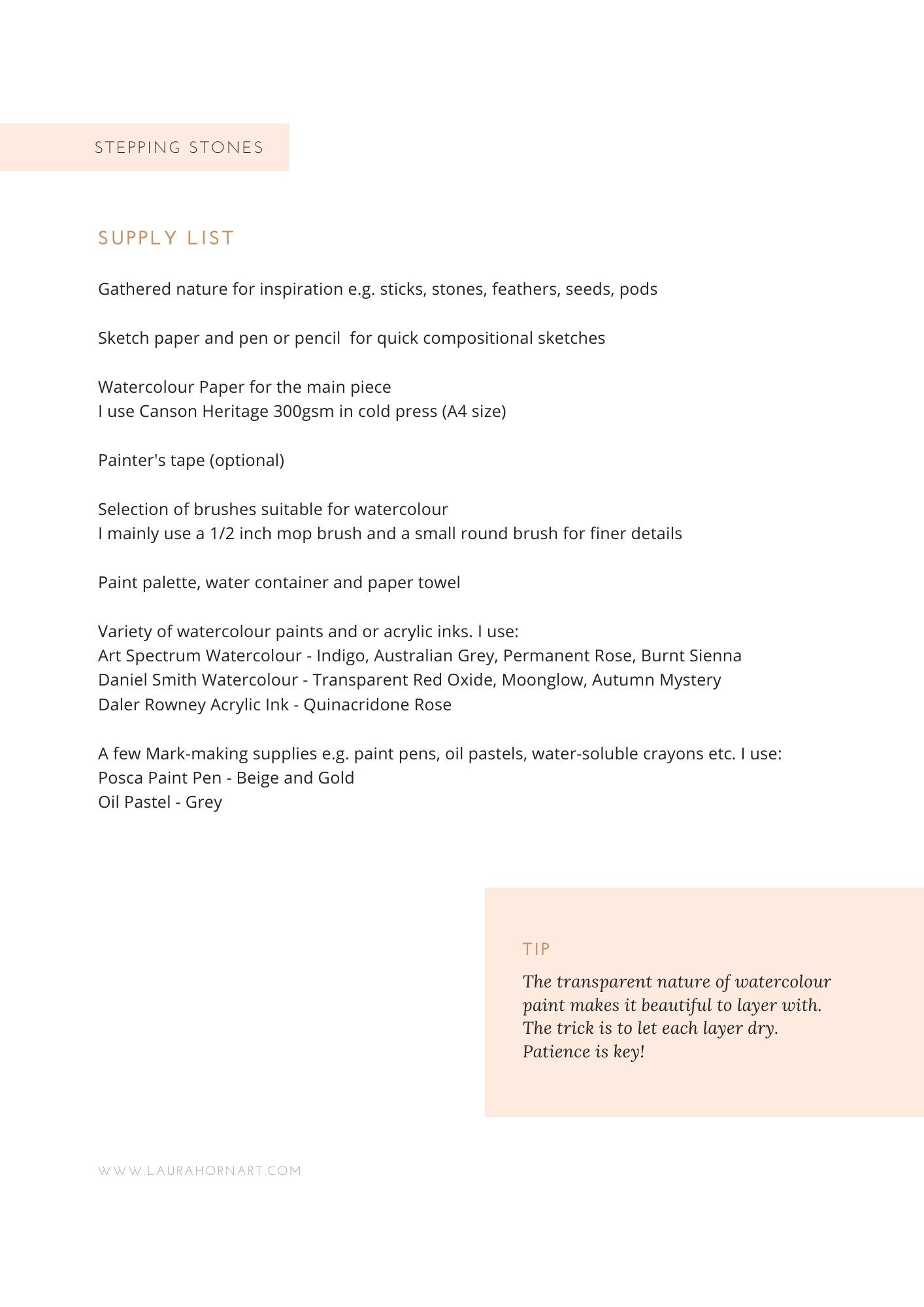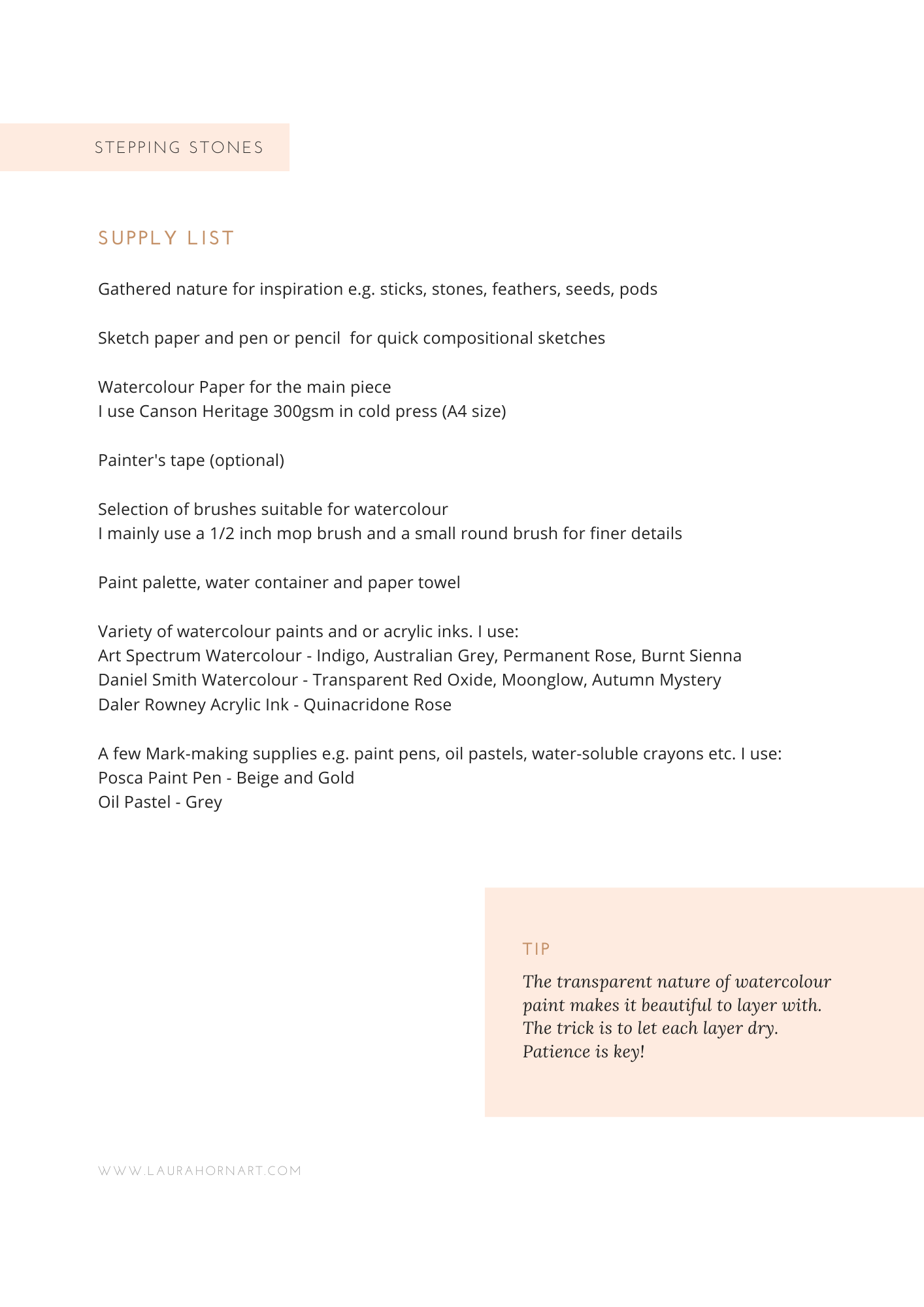 Frequently Asked Questions
When does the course start?
The course is an instant access class. You will be provided with access to all content immediately and can work through the content at your own pace.
How long do I have access to the course?
The course comes with lifetime access. You will have unlimited access to this course for as long as you like. You may keep and download all content.
What level is the course suitable for?
This course is for anyone who has an interest in watercolour/mixed-media abstract art. It is suitable for complete beginners and more experienced artists.
Do I need all the supplies listed?
No, I encourage you to work with what you have and adapt the class to suit your needs. You may find it helpful to watch the class through first and then decide on your supply choices. Your way is perfect!
Do I need high speed internet for the course?
Yes, you will need a good internet connection to view and/or download the video content for this course.
Will there be an online community for this course?
Yes, I will provide details of how to submit a request to join the Laura Horn Art Facebook community. There is also a hashtag #laurahornartclasses that can be used on Instagram and other social media platforms.
What is the refund policy?
Once you are enrolled in the course I am unable to offer a refund. I encourage you to contact me if you have any questions about the course prior to signing up.
Your Instructor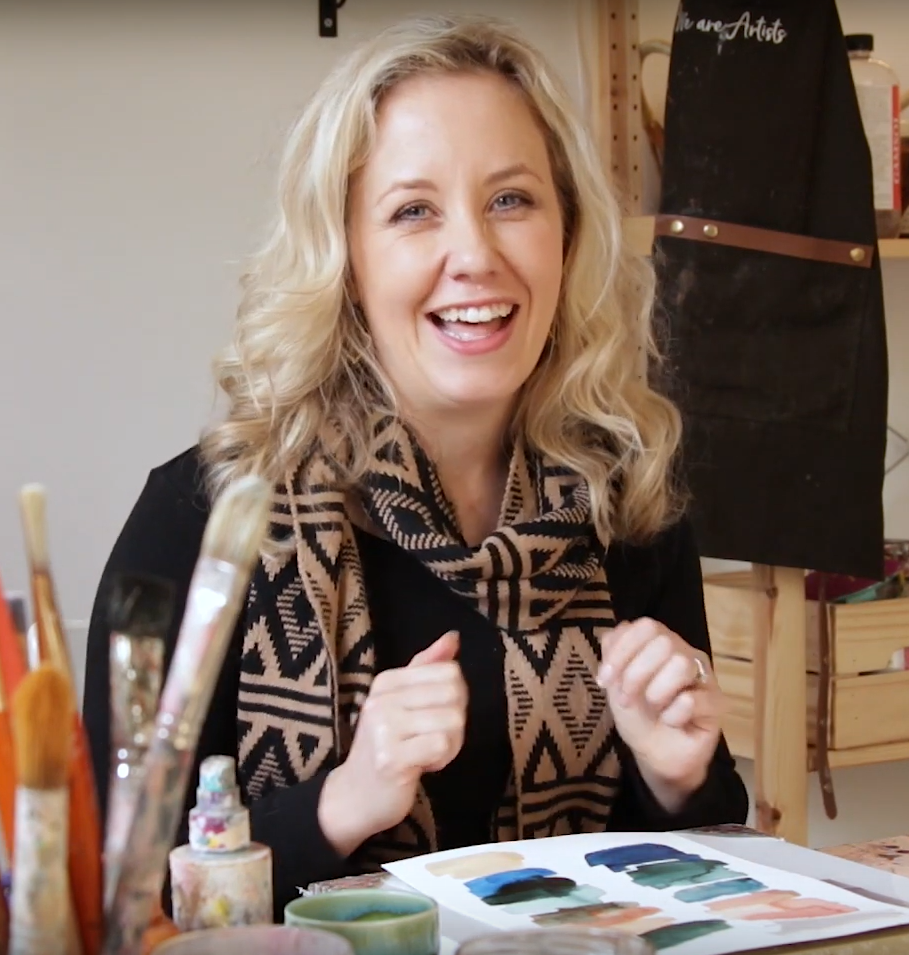 Hello and Welcome! I'm Laura, a mixed-media abstract artist from the picturesque Adelaide Hills in South Australia. Thank you for being here and embarking on an artistic journey with my online classes. Within the classroom, you'll discover a treasure trove of tips, techniques, and step-by-step lessons carefully crafted to nurture your artistic skills, boost your confidence, and enhance your unique creative style. It would be my absolute pleasure to have you join me in this creative adventure!